Bring Bibi Out Of The Hell-Hole!
Take a look at the savage howling for blood in the photo below.
ooo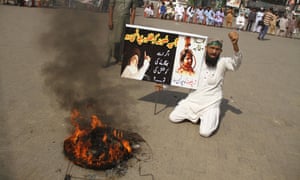 While there are such primitive people in many countries, it won't surprise many of you to learn that the creature in the picture is Pakistani, and the frightful fact is that there are thousands of rabid brutes like him there.
According to the Guardian, a similar sort, found guilty of murder and quite rightly executed, had 'tens of thousands' show up at his funeral to honour his despicable crime.