CSU Sells Out, Leaving Only AfD To Make 'Asylum' Sense!
At least Seehofer made an effort to preserve the image of his Bavarian CSU party as the 'conservative'  wing of Mama Stasi Merkel's machine.
Not any more, now that the current State Premier Markus Söder has 'rebuked fellow members of the conservative CDU/CSU alliance for standing up against the ruinous 'asylum' clause in Germany's Basic Law (constitution) and the UN Migration Pact.
=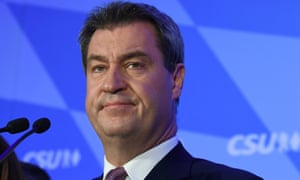 =
Söder had a right old rant (sorry, left old rant) at the weekend.
"The individual constitutional right to asylum is for me inviolable."  
https://www.dw.com/en/bavarias-markus-s%C3%B6der-defends-german-asylum-right-un-migration-pact/a-46442700
This outburst will undoubtedly lose his party even more votes to the AfD patriot party, especially since it was totally needless.
The CDU leadership candidate who dared to question the undemocratic clause ( I say undemocratic because the clause is not amendable, unlike most of that 'Basic Law' – none of which, of course, was ever was put to Germans for approval or otherwise…
…was almost instantly brow-beaten into a mealy-mouthed retreat from his questioning words!
Söder, a member of the CDU's Bavarian sister party, the CSU, said the debate about the individual right to asylum was too "theoretical." Migration policy was about taking "practical steps" that the government had already taken, he said.
Need for international cooperation
Söder also said that the UN migration pact made sense because global migration challenges could not be solved by one country alone.
"National measures always have to be conducted in tandem with international ones," he said. "Otherwise, they lead to nothing."
Right-wing CDU/CSU members voiced concern that the agreement could set legal principles that would make it harder for Germany to set its own immigration policy.
CDU Health Minister Jens Spahn, another hopeful to replace Merkel as CDU leader, said party members should vote on the pact at a party conference in early December.
The government's failure to communicate enough details about the pact was "unfortunate," Söder said, because it offered far-right populists ammunition for "conspiracy theories."
Other countries, including Austria and the Czech Republic, have said they will withdraw from the treaty.
The Bavarian premier was nevertheless pleased with the European Union's efforts to control inward migration by strengthening its external border.
"Europe is fortunately far further along than it was just a few years ago," he said.
amp/tj (AFP, Reuters)