Another Judge Stabs Europe In The Back
==
 A Belgian judge has ordered the government to repatriate six children of IS militants and their mothers who have been detained in a camp in Kurdish-controlled Syria…Belgian judge orders return of six children of IS militants ..
This deranged ruling has, according to France24's lunchtime news bulletin, been 'hailed by human rights campaigners,' a fairly reliable indication that it's bad news for decent people.
Time that jerk judge was put out to grass, sent to retirement in whatever parts of Syria are still subject to the ISIS rape-gang's dwindling control.
Proximity to vermin might smarten him up!
Meanwhile, the Belgian Government has been instructed to take back the jihadist bints and their brats   –  if no appeal is lodged by the end of January.
According to media, the decision to appeal is under consideration – but what's to consider?
The women concerned are as undesirable as it gets.
The two IS widows, Bouchra Abouallal and Tatiana Wielandt, both 25 years old, along with their children, were evacuated from Syria in 2013. According to the Belgian court, they should also be returned.
After giving birth in Belgium, however, both returned with their children to Syria. In March 2018, they were sentenced in absentia for up to five years in prison. http://www.kurdistan24.net/en/news/1654bb2d-679d-439b-94c6-7122faff4456
Undesirables like those two bitches need a lot more than five years behind bars! Under no circumstances should such creatures ever be allowed access to children, theirs or any others. They deserve to be stripped of citizenship and excluded forever from any civilised country.
And not only  the ISIS slags involved in the court case!
–

A security sweep through Molenbeek…
/
Molenbeek  -"the whole neighborhood" knew where Abdeslam was ever since the Paris attacks. Nobody tipped off authorities. So Belgian Media Is Rotten Too? 
…and similiar banlieues would turn up plenty of candidates for deportation – even more, probably, than are already known to the authorities!
====

===
If no appeal is lodged, let's hope Brussels faces 'Yellow Vest' patriot insurrection.
We were, after all, pleasantly surprised by the mass protests there over the UN's malevolent Migration Pact, just a week or two ago, when 'some 5,500 people rallied in Brussels' European quarter housing a number of EU institutions. Some held aloft banners bearing slogans including "Our people first" and "We have had enough, close the borders." 
=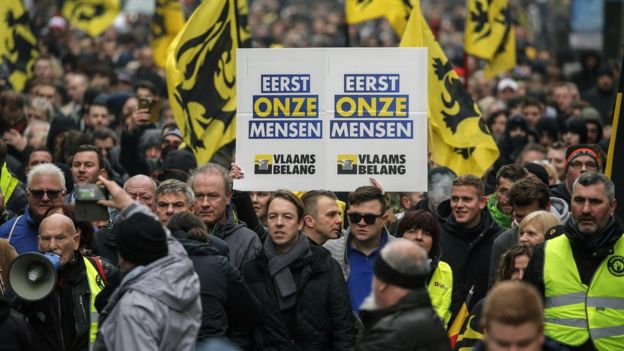 'OUR PEOPLE FIRST!" An overdue message!
Unfortunately, the reports I have seen do not name or provide a photo of the rogue judge, nor of the leftist lawyer who took the case of two ISIS sows and their litters.
Who paid that lawyer?
It would be interesting to get more info of that sort.
Any readers care to comb the news sources and let us know.
Decent Belgian patriots deserve to know who are NOT on Belgium's side.
=