A Red Rat Re-Caged – Well Done, Bolsonaro!
Well done, President Jair Bolsonaro!
ooooooooo
Nothing could illustrate the moral depravity of the communist-sympathising former leadership in Brazil more starkly than the way they sheltered this vicious marxist murderer on the run from justice.
\

Marxist murderer Cesare Battisti, who belonged to the Armed Proletarians for Communism guerrilla group.
=
And here's a photo of the other guilty party!
=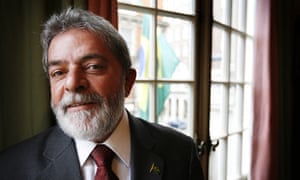 Leftist Lula
That quote from a Guardian report nearly a decade ago acknowledged the truth, that Battisti was convicted in absentia of killing two police officers, taking part in the murder of a butcher and helping to plan the killing of a jeweller…
Vicious crimes, which also left that murdered jeweller's son confined to a wheel-chair, but that hardly mattered to the vermin element in Brazil, among whom, we heard on the BBC news this morning, the terrorist killer was 'popular.'
=
=
As reported again by the BBC just last week, Battisti spent years in Brazil as a refugee, with the support of former left-wing President Luiz Inácio Lula da Silva.
'A REFUGEE?'
=
Most people in most European countries have a fair idea nowadays what that word means to the Left!
=============
Now Jair Bolsonaro has redeemed Brazil's good name!
And his action for justice was a result of cooperation between himself and another good man, Italy's patriot leader Matteo Salvini!
Shortly after Bolsonaro was elected in October, he promised Salvini he would send Battisti back to Italy in order to serve his prison term. He also said the extradition of Battisti, whom he described as a figure "adored by the Brazilian left", would reflect to the world his government's commitment to fighting terrorism…
The only regrettable aspect of the situation is that, when the Communist terrorist arrives back in Italy, about the time we are posting this comment, he will only be put back behind bars, and not strung up or be facing a firing squad…
=
…but until Italy frees itself from the Brussels Empire and the ECHR, a full measure of proper justice is not available.
BTW, let's not forget the disgraceful role of France in allowing the red swine to escape justice for so long.
The Communist SOB spent quite some time there too, protected by the Mitterrand doctrine…
=
French leftist president Francois Mitterand
==
….a 1985 law that offered asylum to about 100 former Italian guerrillas "on the condition that they withdrew from politics…"