Making Plans For Nigel? Why Not?
Nigel Farage says he is ready to fight the European elections in May if Brexit is delayed. The former UKIP leader, who quit his party in December, said he was seeking "the right political vehicle."
https://www.bbc.com/news/uk-politics-46918000
=
===
Splitting the vote?
That's been UKIP's predictable reaction…
.@Nigel_Farage said on Sky News with @adamboultonSKY that he will start a new party if we have to fight European elections. He KNOWS this will split the pro-Brexit vote. The question is this: who is Nigel Farage working for?
Splitting the vote?
Yes, but No.
If you remember, those elections are run on the Continental system, which is different from the UK's. Winners emerge not from the British first-past-the post system but by what's known as the 'list' system – a type of proportional representation.
Nigel Farage is a big name, rightly so, because he played all the right cards in the 2016 referendum, taking on and thrashing that LibDem clown  C'mon, Nigel – Don't Pull Punches With 'Clever-Clogs' Crosby!   in a televised debate…
=
..and then let's not forget how he famously starred in that brilliant anti-crimmigration poster, which so upset wets like Gove, who has recently been busy propping up May's sell-out 'deal.'
So if Farage and other Leave luminaries do stand under a new label, with UKIP also putting up candidates, the first round of voting will be split among at least two patriots, but voters for whichever is the weaker will logically transfer their votes to the stronger pro-Brexit candidate in the second round.
But while we're on the subject, another reminder, of how Ulster has for decades been unjustly and discriminatorily treated in those 'European election, in which, unlike every other part of the realm – Northern Ireland uses the Single Transferable Vote system, which does not use party lists.
,
And that quite different system was DELIBERATELY adopted to make sure that the treasonous minority, Eire's fifth column, are guaranteed representation, resulting in vile creatures like that brute we showed you in October 2017…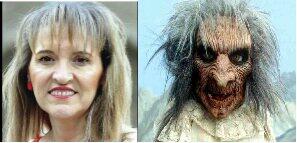 Found this via Google Search – which one's Evil Anderson?
=
…getting to sit in UK seats in Strasbourg.
If and when British people elect a patriot government, bringing Ulster into line with the rest of the country should be a priority.