Bolsonaro, Swamp-Drainer, Offers Hope To Red-Ruled Venezuela!
Much talk in the USA about how Trump has yet to drain the swamp, but I had a chat with an American friend a while ago, and he told me that it was extraordinarily hard to root out even known marxists and perverts from the federal government payroll.
= =
Something similar to the idiotic 'tenure' rule that prevents their counterparts in academia being cleared out from positions which they abuse by instilling toxic ideologies in young minds.
However, the more he can root the rats out, and the faster, the more wholesome country the USA will be.
Perhaps he could ring up another patriot-president, pick President Bolsonaro of Brazil's brains, because the new leader down there has not been wasting time.
=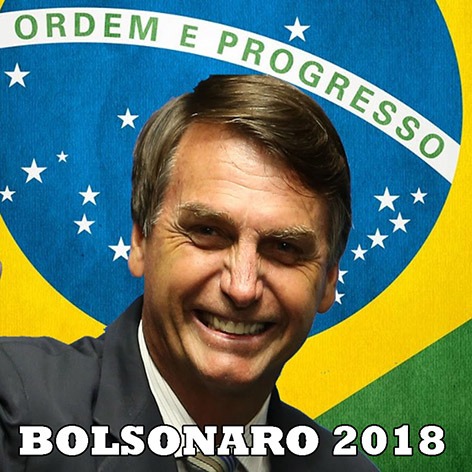 =
Last month he addressed the nation, to say he was keeping his word, that his country was being "liberated from socialism and political correctness." 
Now he's living up to that promise, booting out contracted staff from government service, a small but useful step "to do away with the Socialist and Communist ideas that during 30 years have led us to the chaos in which we live," as his chief of staff, Onyx Lorenzoni puts it.
"It doesn't make sense to have a government with a profile like ours to keep on people who support another way of thinking, another political system."
=
==
Lorenzoni showed a commitment to fair play, however, adding that some of those dismissed might be rehired if they passed an "evaluation" of their ideological leanings…
That's from Merkel's state-funded DW, so no surprise that they tag on the following gratuitous yap.
Bolsonaro and his team have often described their rival parties, in particular the left-wing Workers Party that governed between 2003 and 2016, as "socialists" or "communists."
Why make out that the description is something attributable only to Bolsonaro?
I imagine the 'left-wing Workers Party' would own up promptly enough to be 'socialist…'
Manuela D'Avila, Communist wannabe VP
=
….and since their candidate ran in tandem with a notorious Brazilian Communist Party activist, Bolsonaro and his 'team' are spot on with their description!
Good luck to the President, and his team. I hope they can clean out the garbage from academia too.
But this week we must turn up the applause volume once more, because Bolsonaro has taken a very honourable stand for freedom, pledging support to the ever more enslaved people of neighbouring Venezuela, whose plight we have discussed before. 
Not content with tackling all the messes the Left has left in Brazil, the new President has declared solidarity with the Venezuelans suffering under marxist misrule.
Not just idle talk, either – he's hosted the new leader of the democratic resistance next door, Juan Guaido…
….the young head of Venezuela's opposition-run national assembly.
Guaido's denounced Maduro as a "usurper" and "de facto ruler" whose re-election last May was a "farce."

Nations now recognising Guaido as 'Acting President' of Venezuela
=
In the absence of a legitimately elected president, Guaidó argued, it was his constitutional duty to occupy the position on an interim basis until free and fair elections could be held.
He also called on the military – whose members are being offered amnesty by Venezuela's opposition – to turn on Maduro.
Good for Guaido – that's an approach we urged a year or so ago.
But word's getting out.
It's time to take out the tyrant.