Petition To Shifty Scheer – Defend Free Speech From Turdo!
We don't get many petitions from Canada, so I am doubly pleased to receive this one, from Ezra Levant at The Rebel.
We have noted the Tory Party leader Andrew Scheer's resemblance to shifting sands, as with his cowardly veto on an excellent Muslim Conservative candidate -.
=
– and his unprincipled abandonment of the commitment he made to free speech.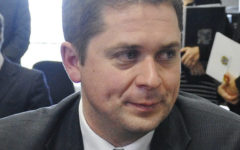 Scheer
==
But this intro to the petition should ring alarm bells among all Canadians who care for free speech!
====
Stephen Harper's Conservatives voted to repeal section 13 of the Canadian Human Rights Act back in 2013.
That's the censorship provision that made it an offence to hurt someone's feelings.
But now the Liberals are looking to bring it back, and to my horror, Andrew Scheer's Conservatives haven't lifted a finger against it.
When he ran for leader of the Conservatives, Scheer promised to fight for free speech— especially on campus. But since then, he's deleted that policy from his website. You can't find it. 
And he's gone wobbly — out of fear of the media. Fear that he'll be demonized.
But this is serious stuff — I can't name a more important issue for conservatives. 

How crazy is that? Why is not a single Conservative MP allowed to talk about this issue? Why are they being so passive and weak?
But what do you think? 
I know that most people watching my shows are Conservative Party members. Some are even Maxime Bernier supporters. I could ask you to sign a petition to Justin Trudeau to have him stop Section 13, but I know that he won't listen. 
What if I asked you to sign a petition to Andrew Scheer himself? To take off the whip from his own MPs. To let them be true conservatives — to stand up for freedom of speech.
It's simple. The petition simply says:
"We call upon Andrew Scheer to stand up for freedom of speech by opposing the revival of section 13 of the Canadian Human Rights Act."
That's it. He promised he'd be for free speech when he ran for the leadership. His Party was unanimously for free speech under Stephen Harper. Don't let Harper's work be undone.