Scheer Outed As Enemy Of Free Speech!
the Liberal-run Justice Committee, Michael Cooper, a conservative MP from St Albert, dared to push back at the hateful assertion by a Muslim lobbyist that conservatives were to blame for mass murder in New Zealand. Cooper pushed back, saying the terrorist himself there denied that he was a conservative, in fact, said he admired Communist China. It was true, and it was a rebuttal to a false accusation. But after the Liberals said they were all offended — Scheer literally fired Cooper.https://www.therebel.media/stop-section-13-petition-andrew-scheer-justin-trudeau-free-speech-canadian-human-rights-act
I found this hard to believe, but cross-checked The Rebel report with the leftwing CBC and it's perfectly true.
I'd sympathise more with Cooper, however, had he not 'apologised' to the freakos whose delicate 'sensitivities' he 'offended."
…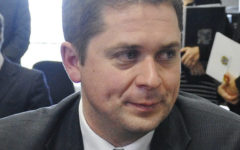 Weasel Scheer
=
Grovel is now part of Canadian Tory DNA.
==
More good reasons to consider a vote for Maxime Bernier's party, the PPC.
=

Maxime Bernier
======
Bernier criticised Scheer's gutless kow-tow to the Liberals on the Justice Committee, and spoke up strongly for democracy.
"We are the only political party with a strong free-speech platform," said Bernier, who also pledged to repeal a bill introduced by the Liberal government which established sexual orientation and gender expression as protected grounds under the Canadian Human Rights Act.
b2a5b157-a09f-49e5-99c3-35e62e1987d2
?utm_campaign=sgr_section13_billboard&utm_medium=email&utm_source=therebel
And weirdly, Scheer ordered the remaining conservatives on the committee to vote to turn off the video cameras when Mark Steyn, Lindsay Shepherd and John Robson testified at that committee. How crazy is that? The Conservatives invited them to testify — presumably for free speech. They showed up. And then the conservative MPs literally voted to turn off the cameras, so the world couldn't see them arguing for freedom. And according to Andrew Lawton, who was right there, the order came from Scheer himself.