Ulster – Cops Cower From Disloyal Thuggery Threats!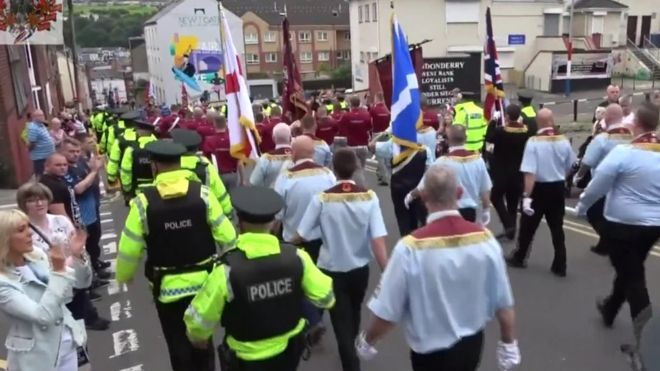 It's always a great day out with lots of grand bands marching along, like Larne's Clydevalley Flute Band.
But that particular band chose not only to celebrate the actions of long-dead heroes, but also to show respect for modern heroes too.
They attached insignia of the Parachute Regiment to their uniforms, featuring the letter 'F…"
=
….a clear show of support for the British soldier currently being witch-hunted by the UK political/legal establishment.
And why the HELL should the Larne band not show support!?!
More precisely…
Why the HELL did the insipids of the PSNI (Police Service of Northern Ireland) confront the patriotic bandsmen (and women) and then harass them on their way home afterwards?
PSNI have told us why –
– they were worried about the 'sensitivities' of disloyal ratbags in the vicinity!
=

Seriously.
…the most senior PSNI officer in Derry, Supt Gordon McCalmont said the response was "balanced and proportionate….geographical sensitivities are key in this….We are talking hundreds of metres here from where Bloody Sunday unfolded. 
Big deal.
Most British people are very supportive of the persecuted soldier…
https://www.plymouthherald.co.uk/news/plymouth-news/live-veterans-protest-bloody-sunday-2777591
…and there's absolutely no reason why a bunch of Sinn Fein swine's 'sensitivities' should take priority over the patriotic sympathies of decent loyal Brits.
But then McCalmont opened up a bit.
"We had made the assessment because of the views of the local residents that we had gathered over the months and the understanding from the community that the geographical sensitivities were such that any display would likely lead to a breach of the peace."
=============
NB – stripping away the euphemisms, it's clear that there was neither threat nor intention of threat on the part of the marching band.
McCalmont is plainly saying that the Enemy Within in the neighbourhood would likely REACT to the band by breaching the peace.
=
==
Since when is it the job or duty of the police to aid and abet intimidation!?
If anti-British elements in that or any neighbourhood adopt a menacing attitude to good citizens passing lawfully along the Queen's Highway, said elements should be given clear warning –
Bob down, ratbags!
If, having been warned, they turn violent, then THAT'S why the police in Ulster are armed.
If truncheons and/or tear-gas do not suffice, unholster the fire-arms.
No wonder the Governor of the Apprentice Boys Association Graeme Stenhouse called the antics of the cops as "heavy handed."
He said it was his understanding that no crime had been committed.
"It would be nice to hear to know the opinions of senior police officers on why this approach was taken," Mr Stenhouse said.