Ulster Cops ARE Crawling To Sinn Fein Scum!
Because I don't live in Ulster, and am motivated only by a sense of solidarity with a small British community whose right to self-determination is under perennial threat due to Bliar's Bad Friday Dirty Deal…
=
===
…I take time when writing about the situation there…
…as I did a few days ago.
Now, however, I am confirmed in my reflections on last weekend's events, with the aunt of a murdered baby saying much what I said about the double-standards of the Police Service of Northern Ireland…
=
…tough on loyal Brits, soft on disloyal vermin..
One of the villains mentioned in the Belfast Telegraph turns out to be be the same demoness I've deplored before, Martina 
Anderson 

MEP!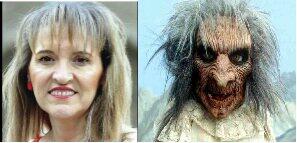 Found this via Google Search – which one's Evil Anderson?
Remember her?