Nice Passport, Nigel – Now Fix Ulster Driving Licences
---
How pleasing to see at least one small step forward, new British passports with the reference to serfdom erased.
….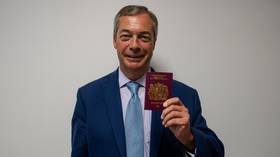 Brexit Party leader Nigel Farage poses with his new UK passport, on which the unpleasant words 'European Union' do not feature, so we're told.
…..
I look forward to the longed-for day, here in Jakarta, when the banner of the Brussels Empire is hauled down from Her Britannic Majesty's Embassy.
But another step, a real loyal royal leap, for national pride, would be remedial action on the discriminatory driving licences issued to Ulsterfolk.
We have looked at this before.
….