Bojo Faces Court Fight With Convicted Benefit Fraudster!
No, I'm not talking about John Major, who has never, so far as I know, been convicted of benefit fraud, though he has been proven guilty of craven crawling to "Europe…"
…..
….even when it meant betraying what he himself believed "Europe" was wrong about.
Nor am I referring to rich-bitch Gina Miller, though she certainly is very unwilling to discuss certain things…
=

=
…as proven by her infamous anguish…What's the truth about 

Gina

 

Miller

? …when enquiries are conducted into her murky background.
….
No, I'm talking about Raymond McCord, who has reportedly launched a legal challenge to Bojo on the grounds that 'turmoil' may ensue if the PM is in breach of the Bad Friday Deal.
=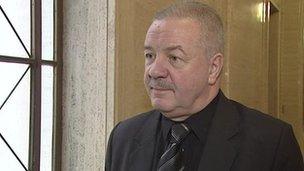 Not for me to debate here whether there's case to answer, but the petitioner certainly knows his way around a court of law.
In 2014 McCord was convicted of benefit fraud, pleading guilty to thirteen counts totalling £69,000 in mis-claimed housing benefit, incapacity benefit and industrial injury reduced earnings allowances. He was given a sentence of 18 months imprisonment, suspended for three years.
That's from wikipedia, but I was so shocked that I double-checked – and it's quite true!
Neither the Guardian nor the BBC bothered to give us this useful insight into McCord's character.

Instead they duplicitously describe him only as a 'victims campaigner.' 
Having said all that, he might be a nicer person than Gina Miller!