Busted! Benefit Bludger's Anti-Brexit Blarney!
That creep in Ulster has lost his court case against Brexit.
I'm talking about Raymond McCord, who launched a legal challenge to Bojo on the grounds that 'turmoil' may ensue if the PM is in breach of the Bad Friday Deal.
=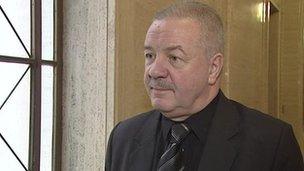 We took notice of the cur not long ago.
In 2014 McCord was convicted of benefit fraud, pleading guilty to thirteen counts totalling £69,000 in mis-claimed
housing

benefit, incapacity benefit and industrial injury reduced earnings allowances. He was given a sentence of 18 months imprisonment, suspended for three years.
Now he should be made to pay not only his own side's costs but also every pound drained from the public purse to defeat the swine.
He is beneath contempt.