Resistance Rising – Will Patriots Face Left Jackboot Again?
---
Are you a Brexiteer?
If so, read this! Don't worry – it's VERY relevant.
Quite a stunning poll just published in Belgium, in which the 'far-right' ( aka patriotic resistance ) party, the Vlaams Belang, gets a  24.9 percent shares of voter support, to 'become the largest party of Belgium!'
Add that to the other sensible party there, the NVA, with its 22.7% and you see how many Belgians are waking up to the manic multicult ideology…
..
.
…which has allowed hordes of aliens to colonise the country, with entire once-Belgian neighbourhoods now infested, like notorious Molenbeek…
…
Molenbeek  -"the whole neighborhood" knew where Abdeslam was ever since the Paris attacks. Nobody tipped off authorities. So Belgian Media Is Rotten Too? 
…and not just Molenbeek – the settlers are expanding their territory!
…with many of the aliens and their offspring not just refusing to adapt to the country in which their resident but actually forming political parties to enforce their own sectarian codes and customs.
–

…
Common sense dictates that the two parties get together. This would require the NVA to ditch all that foolishness about refusal to cooperate with VB.
If they can work with the sort of dross that constitutes the pro-Brussels in-crowd, then certainly they can work with a party which has shown steadfastness in the face of petulant ostracism.
Moreover, Belgians expect more maturity in these matters, if they're asked for their opinion on the subject – "….58 percent of Belgians are against excluding the far-right party Vlaams Belang from the Flemish government."  https://euobserver.com/tickers/145964
But when contemplating, and so far eschewing, a patriotic coalition, might it be that the NVA is scared of the in-crowd jackboot?
.
…
Patriotism in Belgium is a dangerous belief!
Not that long ago, unable successfully to best the largest party in the land by free and fair debate, the authoritarian Belgian ruling class turned in desperation to their judge-jerk comrades in order to thwart the democratic resistance.
…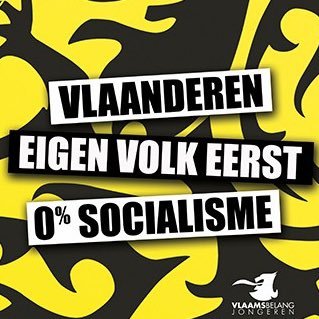 .
A ban imposed, for the crime of 'discrimination' i.e. putting one's 'own people first,' as their banner proudly proclaimed.
 ..
Yes, a large democratically elected party, BANNED in a modern European country.
As I asked just a few weeks ago, and must ask again,  in view of how Britain's Enemy Within has sought judicial intrusion…
…
…
…to promote their disloyal objectives…
Who's next?   The Brexit Party? You think I'm kidding?
Read that!
And read this!
And contemplate, too, the folly of it all, when one of Belgian parties ostensibly in favour of national self-determination refuses childishly to work in harness with the other.
Am I talking about Belgian now, or Britain?