Witch-Hunt Ban Depends On Talks With Terror Fans?
So much for 'Soldier F,' and for every other veteran of the wars against savages, who could be sacrificed on the altar of appeasement.
The assertion by the 'government source' reported by the BBC, that –
"We are determined to make progress and legislate on the issue of legacy prosecutions"
– rings more than a little hollow when we read the rest of their report, viz.
"…the Northern Ireland Office has consulted on the question of legacy prosecutions and the government is engaging with the main parties in Northern Ireland, MPs in Westminster and wider society across Northern Ireland to reach a broad consensus…
https://www.bbc.com/news/uk-politics-50026951
'A broad consensus?'
'Engaging with the main parties in Northern Ireland…?'
.
.
That plainly means a 'consensus' which includes Blood Beast Adams' Sinn Fein, which, loathsome though those disloyal scum may be, are indisputably one of 'the main parties in Northern Ireland.'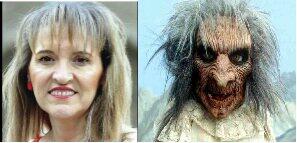 Found this via Google Search – which one's Evil Anderson?
And Sinn Fein is infested with unrepentant terrorists!
The Daily Telegraph confirms that 'Johnson had promised to end the witch hunt of soldiers over historic allegations..' and adds that his climb-down has provoked 'the disgust of former soldiers…'
But the Telegraph has 'sources' too, which 'insist Mr Johnson had wanted to include a new law that would have given extra protection to troops…
…

.
…but was deterred by his own policy advisers within Downing Street…
So no dying in a ditch to help good soldiers who risked exactly that fate, literally not figuratively…
…
.
…in the war against cowardly terrorists.
Never forget, the IRA filth gleefully shot British troops in the back and engaged in brazen racist ethnic cleansing against the Ulster-British.

The IRA's 'political wing' gloried in such atrocities.
How many of those Downing Street policy advisers give a tinker's cuss about justice?
No member or former member of the UK's Armed Services should be punished for shooting Sinn Fein/IRA scumbags.
How many of Bojo's viziers, we also must enquire, in view of the rumours of a 'back-stop' sell-out, give a damn about Ulster?