Little Sister Is Watching You! Frisco's Horrid Addled Brat Mural
I have never been to California, but I do know that residents of San Francisco dislike the appellation Frisco being applied to their city.
But it makes for a more compact headline.
Much more off-putting, surely, at least for decent people there,must be the prospect of daily encounters with the vacuous gaze of The Addled Swede Brat, portrayed in a gigantic mural beside Union Square!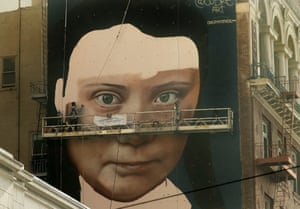 This horrid sight accords with her snarling threat, issued during the tantrum she threw at that conclave of klutzes not long ago, that she, and no doubt her pack of slack-jawed juvenile jerks, 'will be watching…'.
It also evokes an instant mental image of another malignant being, albeit fictional…