Solidarity With Bihac, Tormented By Ingrates! "I.O.M. Go Home!"
It must have choked the BBC to report what happened in Bihac, in Bosnia, where angry townspeople, tormented by fake-'refugees,' organised a vociferous protest against the anti-social louts imposed on their small community.
And these are smart people.
..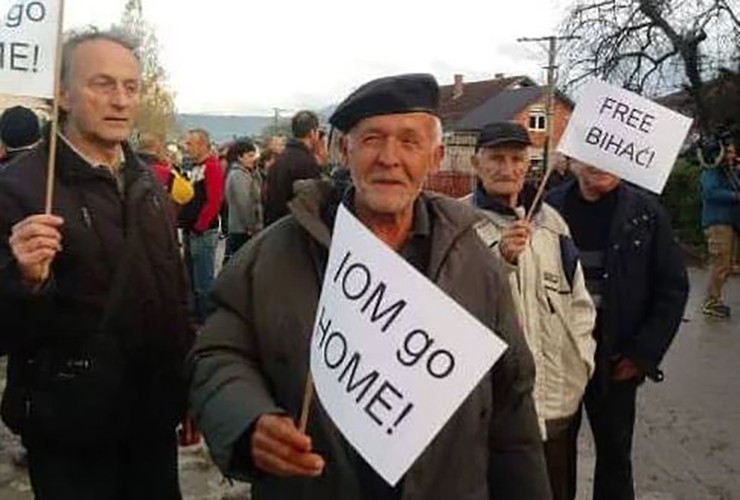 .Even the BBC reports the locals 'fear for their safety in their own town…'
…
Not only were they objecting to the migrant savages, but they also carried banners directed against the Enemy Within…
IOM Go Home!
…., the so-called 'UN agency' which they correctly identify with the menace that plagues them.
American readers may remember that IOM…
The United Nations Migration Agency,

IOM

, is providing support and assistance to migrants on caravans crossing Central America…'
=


All migrants must be respected, regardless of their migratory status–

IOM

Chief of Mission in Mexico
Any chance the UK tax-funded state media might have had to spin the report towards their own pro-crimmigrant bias, of which most of us are well aware…
…was shot down in flames by their choice of crimmigrant interviewee, an arrogant Pakistani loudmouth, yammering about what the townspeople 'MUST' do, how they 'MUST' back off and put up with him and his ingrate gang.
Whatever else the creep may be, he's no 'refugee' – look at the map…
..and see how many countries Loudmouth passed through to inflict himself on the poor Bosnians!
The uppity swine's not interested in a safe place – all he wants, like so many other fake 'refugees' is access to the yummy tax-troughs of Northern Europe.
…

.
And that's why most if not all of his alien buddies are so intent on gate-crash the neighbouring country of Croatia, then fast forward  – -via the EUSSR's insane Schengen free movement rules and ooze northwards!
What was shocking about the BBC news item was not, of course, how bad these undesirable aliens are…
.
….…
….
…which most everyone in Europe now understands, but the statement that a '24 hour' curfew has been imposed on the centre where they get their free board and lodgings.
24 HOURS?
There should be barbed wire fencing and armed guards, all day, every day, until sense prevails, the lousy 'NGOs' expelled….
….
..and every parasite deported back to where they belong,
And be told to take their IOM flunkeys with them.