Brexit Party MEP Joins Anti-Black-Face Whiner Chorus!
We published a few paragraphs earlier today on the infantile PC vendetta against Black Piet..
Black Pete, who is presented in colonial attire with a black face and large red lips, is celebrated as part of Dutch Christmas.   https://euobserver.com/tickers/130050
…
….and some of you may have read about similar agitation by undesirables in Belgium a while ago, where the trouble-makers were out to ban a much-loved black figure, known to his fans of all ages as "The Savage!"
He's part of a Belgian 'folkloric festival' in a small town called Ath.
…..
Even the baby can see nothing wrong with the big friendly savage!
It includes a 'carnival float featuring a white man in blackface called "the savage' which obviously nobody has to watch if they don't feel like it, but as we all know, some people just love to show up if there's a chance to be offended, like a certain Mouhad Reghif (most Belgians have either French or Flemish names – which is he?)
…
========
.
Mouhad Reghif
This story is all a kind of action replay of the orchestrated left-whine in the Netherlands…
This Reghif ratbag apparently came all the way from Brussels. His gang is, as noted,  not the 'Ath Panthers' but the Brussels Panthers –
La liberté, la justice et l'égalité, par tous les moyens nécessaires ! Malcolm X
=
– whose website reeks of far-left 'anti-imperialist' rubbish!
These 'Panthers' seem determined to expand their hunting ground beyond the city limits, such is their appetite for meddling.
The thoughtful Ath mayor, Bruno Lefèbvre, aware of rude rants about his town, decided to offer the whiner some wise words.
"Given the comments that have been made on the web these past weeks, comments that have shocked the Athoise population, I explained to him that we could not guarantee his safety. The interview passed well and he left the town," Lefèbvre told Belgian media.
==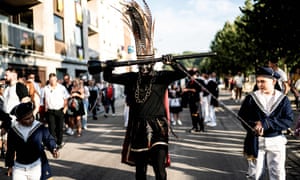 ;,