Lying BBC – Anti-Trump Extravaganza Stars An Arab Hate-Freak!
Dateline, that exemplar of BBC left bigotry, a talk-show infamous for the Big Lie bleated by its far-left former anchor…
….was back this morning, featuring four carefully selected guests, no pretence of trying for a balanced discussion, not a single pro-America voice…
Just in case that level of Trumpophobia was insufficient for the UK state-funded broadcasting outfit's purposes…
.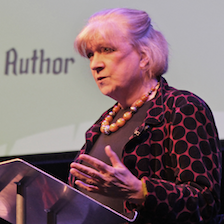 . Islamophobe Polly Deplores Democracy – Elitist Subversion Rising 
….guess who, The Guardian's grand old gargoyle, Polly Toynbee, BTW a former BBC 'Social Affairs' editor, with whom non-Brit readers may not be familiar, but whom most Brits will loathe as much as I do.
Toynbee had a quick rant about POTUS –  'he never thinks of the next step' – then turned her basilisk eye on Ten Downing Street, for she 'wouldn't trust Johnson not to back him…he is erratic, just like Trump..'
The German, DW's Stefanie Bolzen was less strident…
…merely showing off her mind-reading skills – 'he obviously doesn't have a plan…'
Yeah, right….of course he has a plan, and a good one!
Trump says US ready to strike 52 Iranian sites if Tehran attacks
BBC News
000000
And we had an Arab, Abdel Bari Atwan, predictably snarling about President Trump's "mafia way of thinking" and peculiarly claiming that all the trouble all over the Middle East was "all because Trump pulled out of the nuclear deal…."
But hold on just a minute! I hadn't researched this hate-freak properly, and when I did…?
Oh, Jeremy Corbyn!
……
…the MP posed with Abdel Bari Atwan, editor of a London-based Arabic newspaper editor who told Lebanese media: 'If the Iranian missiles strike Israel, by Allah, I will go to Trafalgar Square and dance with delight'.
The BBC treats this hate-freak as a respectable journalist?
The BBC is worse than an embarrassment – it's a bloody disgrace.
Of course there is a Trumpophobic element in the UK.
But HOW can this parasitic organisation justify permanent exclusion of ANY Trump supporters from its foremost discussion forum?