Stumptown TV Series – Aimed At Polishing Portland's Putrid Name?
eThe series is produced by ABC Studios. ABC Studios is a part of Disney Television Studios, a collection of studios comprised of 20th Century Fox Television, ABC Studios and Fox 21 Television Studios
Which is something of a red flag, given what we have had to say about Disney..
….and Fox Channel.
…and indeed the ABC over recent times.
However, I watched the first episode and it was quite adequately filled with action and some humour.
ooo
Time will tell if it gradually starts introducing dashing transfreaks, heroic antifa red nazis…
….brave BLM white-haters, etc…
…or do you think I am overly suspicious?
Well, maybe, but…
There are many cities in America and many of them have been used by authors as the settings for adventurous sagas.
But Stumptown is no imaginary municipality – it's an old nickname for Portland, Oregon, and one of the good guys in the series is a fictional member of Portland Police Bureau.
Thing is, Portland, Oregon, has a very bad reputation. Patriots who dare demonstrate there have been brutally, repeatedly, assailed by leftist hoodlums..
.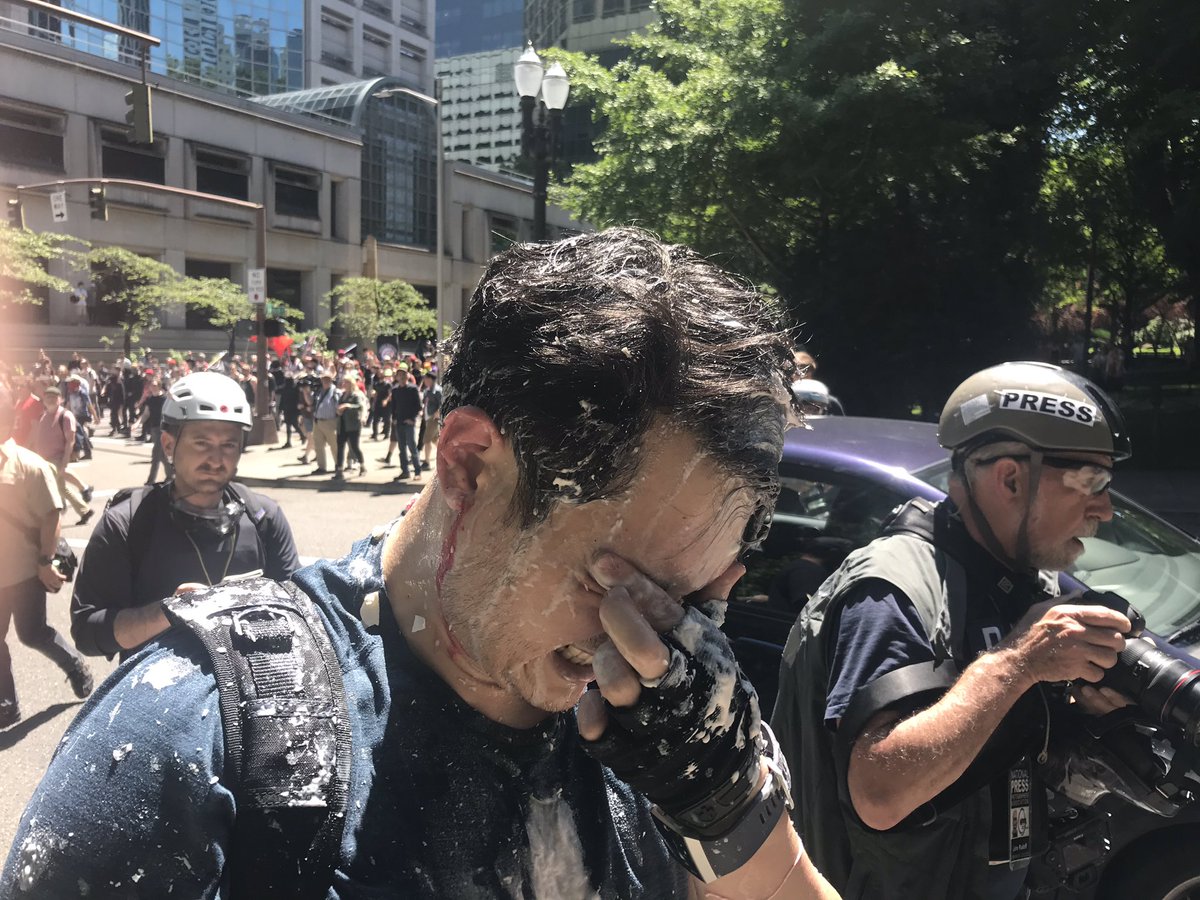 ….punched and hit several times, chemically sprayed by protesters while live-streaming antifa protest in

Portland

..
ooooo
…and Portland Police have not exactly distinguished themselves in protecting decent citizens from red nazi thugs.
Portland Mayor Ted Wheeler came under fire over a viral video showing Antifa protesters blocking traffic and harassing drivers, but he says he supports the decision by police to watch from a distance without getting involved.
"I was appalled by what I saw in the video, but I support the Portland Police Bureau's decision not to intervene," he said at a Friday press conference. "This whole incident will be investigated."
The video posted by journalist Andy C. Ngo showed protesters, including members of Antifa and Black Lives Matter, blocking an intersection and attempting to direct traffic at while officers on motorcycle watched from a block away.
At one point, the activists chased down 74-year-old Kent Houser after he made a right turn against their wishes, pounding on his silver Lexus and breaking a window. The car sustained thousands of dollars in damage, he told the Oregonian
That shaming report was in the Washington Times, 14/10,2018.
Any officers who might think it their duty to curb marxist hooliganism are likely not encouraged by the local authority's infamous far-leftism.
So Portland, Oregon's name is a stench in the nostrils of many good Americans – for many reasons..
===
Knowing what we know about the ideological thread that runs through Disney, ABC and yes, much of Fox too, is it not conceivable that some of their movers and shakers felt the city's rancid reputation could do with a bit of a polish?
A swash-buckling lady with a military intelligence background appearing on our screens every weekmight – might that do the trick?
But then the realities of Portland will probably frustrate any such intention.
And so I'd have left it, EXCEPT…
.
Greg Rucka
..
…that I felt I should check out the author involved, a man named Greg Rucka.
And it turns out he himself is an Antifa bigot, eager to deny free speech to those whose politic he dislikes.