Invasion 2020 – Once You Pay The Danegeld…
Danegeld?
The Danegeld (/ˈdeɪnɡɛld/; "Danish tax", literally "Dane yield" or tribute) was a tax raised to pay tribute to the Viking raiders to save a land from being ravaged. It was called the geld or gafol…
wikipedia
….
So!
The EU says it will pay €2,000 (£1,770; $2,225) each to migrants in overcrowded camps on the Greek islands willing to go back to their home countries. https://www.bbc.com/news/world-europe-51859007Shared
Although we read on and find that the Brussels Empire's 'Home Affairs' Commissar, a woman named Ylva Johansson…
.
….claims this largesse to the undeserving will be only 'temporary – open for one month  – and only for migrants who arrived before 1 January,' we should divert to her wikipedia entry to get the measure of her trustworthiness.
It's worth reading, not least because we learn that she first entered Sweden's parliament as a 'Left Party-Communist!'
.
.
Having switched to the Socialists, she was their choice as Euro-Commissar, and in that capacity last October  was asked if her 'Swedish policy on gang crime and migration would be exported to the EU level. Johansson responded that she was –
"…proud that Sweden received so many refugees…"
Johansson was caught in a big, big lie when she tried to mislead British people about the nightmarish consequences of open-door immigration.
In March 2018, Johansson appeared on the BBC, 
where she claimed that the number of reported rapes and sexual harassment cases in Sweden "is going down and going down and going down."
Johansson later apologized and admitted that the opposite is true.
Quite so!
Clearly a trustworthy politician!!
…..
But even she must realise the truth as expressed in Kipling's famous verse –
00000000
As you can see, the Vikings were as respectful of the countries they reached as many of today's barbarous 'asylumers!'
.
Once You Pay The Danegeld, You Will Never Be Rid Of The Dane!
Does she really think the 5000 crimmigrant limit to "voluntary returns' will be maintained?
 I doubt it! Word gets out – and "Europe's " weakness will be a come-hither message heard in places as far apart…
…as ISIS detention camps in Iraq and steamy cities South of the Sahara!
..
Empress Ursula shows no stomach for a fight, and none of her Euro-Commissars has the guts to face down Erdolf.
.
Ms Johansson said seven EU member states had agreed to take in at least 1,600 unaccompanied children from the camps, seen as especially vulnerable.
Now, remember, this is a BBC report, so naturally they carefully select a photo to illustrate the 'unaccompanied children.'
..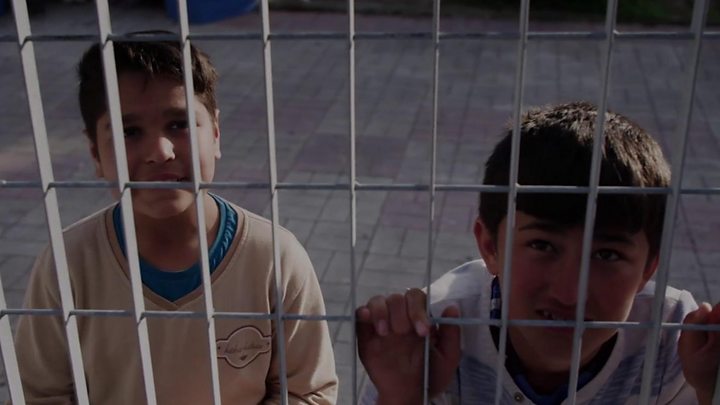 .Oh, and guess who's delegated to do the dirty work!
"Ms Johansson said repatriation of migrants from the islands would be coordinated with the UN's International Organization for Migration (IOM) and the EU border force Frontex.
Frontex is a joke, and we can ask These Bosnian villagers, terrorised by imported savages…