Sectarian Pig Abedi Guilty – Call His Lawyers!
Behold the face of satanic evil!
…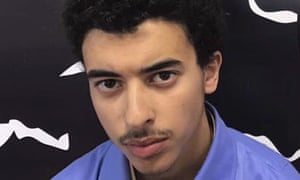 That evil pig has been found guilty and should be put to death..
Alas, degenerate liberalism is so deeply engrained in Britain's political class that he will not be executed.
Until the sentence is pronounced, we must wait, but one hopes this filthy sectarian parasite, who leeched off every educational benefit the UK had to offer, will be put away for life – life, not some soppy sick sentence that will let him out before he dies…
.
.
…and goes to join his pig brother in Hell.
Interesting, however, that the law firm that spent months defending  the pig is named in the Guardian report as the renowned human rights and civil liberties law firm Birnberg Pierce. The firm are currently representing Shamima Begum…
https://www.birnbergpeirce.co.uk/get-in-touch/
…and ask them why they are so eager to represent such scum?