A Question On St.Patrick's Day!
Six years ago, my headline was not terribly inspiring…
…but it introduced an interesting report.
Hence today, another St. Patrick's Day, here's another report on an on-going leech scandal!
Enjoy!
…..
Why Is Ulster's Best-Known Welfare Bum Worried?

Remember Raymond McCord, who launched a legal challenge to Bojo on the grounds that 'turmoil' might ensue if the PM were in breach of the Bad Friday Deal?
=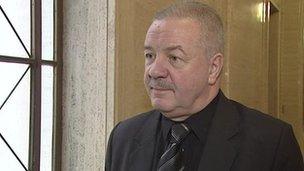 ..
We wrote about his tax-funded blethering a couple of times last year, when he got legal aid to go after Brexit, among other things….
…and we were curious because of his record. 
In 2014 McCord was convicted of benefit fraud, pleading guilty to thirteen counts totalling £69,000 in mis-claimed
housing

benefit, incapacity benefit and industrial injury reduced earnings allowances. He was given a sentence of 18 months imprisonment, suspended for three years.
Disgraceful parasite!
===========…
Now more people are asking questions.
TUV's Jim Allister and DUP MPs Gregory Campbell and Carla Lockhart have submitted Freedom of Information (FoI) requests about the level of assistance he has received.
Mrs Justice Keegan ruled he has established an arguable case his personal data would not be disclosed while a complaint process is under way.
Very arguable!
The creep in Ulster lost his court case against Brexit.