GFA Anniversary-Sinn Fein Evil Embedded In Eire Society!
Especially on this anniversary of the shameful Bad Friday Deal…
.
.
…Ulster's British people will be contemplating the historical expansionist hostility that forever simmers just across the frontier.
.
Among Brits on the mainland, however, there may still be a lingering naivety about their country's ancestral enemy.
That should be, can be, MUST be, transformed into a realisation that it's not just dimwit millennials, bored with Eire's old parties, that has raised a vicious ethnic-cleansing gang to the brink of parliamentary power.
Take a careful look at the comely face of satanic evil below!
.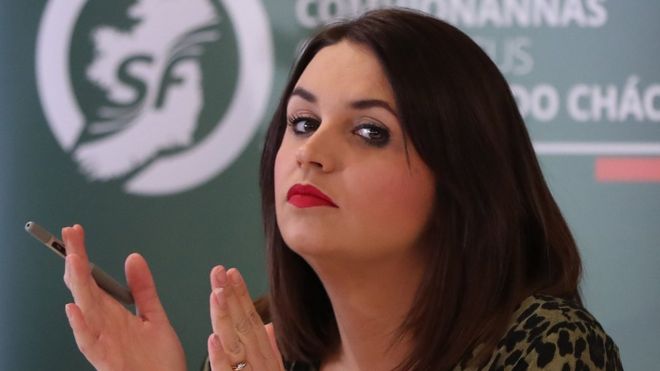 …
Again, it makes you think of those horror films, where an alluring damsel sooner or later reveals herself to be nothing less than a foul demoness…
.
….
…and that McCallion vixen is foul, an unapologetic servant of the Sinn Fein cause, the same blood-thirsty sectarian cause that waged war on innocents for decades…
.
.
..
…a 'public health emergency' if ever there were. At least the Chinese Virus doesn't single out people because of how they worship God!
.

.
The fiendish female has just been elected to Eire's upper legislative house.
She was a candidate on the Industrial and Commercial Panel for election to the Seanad…
She topped the poll after the first count, but had to wait until the 31st round to secure her seat.
One almost has to smile – but not quite – at her quoted words.
Her immediate priority, she said, is "dealing with the ongoing public health emergency…"
How ironic, when her party were the cheer-leaders for the cowardly sectarian filth of the IRA murder gang….
.

.
…vicious brutes like Martin 'Murder' McGuinness.
The Eire Senate is modelled, wittingly or not, on the fascist 'coporate state' idea.
Forty-three of the 60 seanad seats are decided through elections to five vocational panels, which represent various sections of society….the others are appointed by the taoiseach (Irish prime minister) and elected by graduates of the University of Dublin and the National University of Ireland.https://www.bbc.com/news/uk-northern-ireland-foyle-west-52150587
So the poison of Sinn Fein is no ephemeral 'protest vote!' No temporary blip caused by a brat bloc of frustrated millennials.
The 'Industrial and Commercial Panel' is as mainstream as it gets.
Eire's underlying Nazi-style expansionist urge has never gone away.
Although there is no moral, historical or logical case for the annexation of British Ulster, Eire clings to the evil dream, and only very foolish British leadership would expect anything else.