Foul Fox Again! Fake History That Slurs Schlafly!
The late Phyllis Schlafly was and remains an American heroine.
.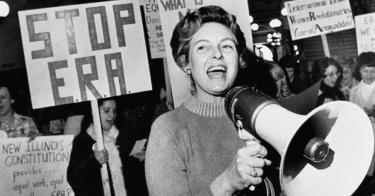 STOP ERA national chairman Phyllis Schafly
.
She fought and won a mighty battle to thwart feminuts who sought to impose their ERA on the USA. She was also media-savvy!
Schlafly taught housewives and other non-professionals how to organize a letter-writing campaign and how to answer a reporter's question in 15 seconds so he could not edit it…
https://www.theblaze.com/news/fx-hulu-mrs-america-lied-phyllis-schlafly

Nowadays, when America is under massive assault from perverts, the current battle being over the transfreak menace…
…it's all the more important that younger people understand how much they owe her and other members of the previous generation of conservatives like Phyllis, and more famous folk like Reagan…
.
…
…and Goldwater before him!
..
When I heard there was to be a tv biopic of Mrs. Schlafly, on Fox, whose stream of left bias…
…I have come to distrust, I doubted very much that it would be fair, but resolved to watch it, give it a try..
Saksikan Mrs. America mulai tayang 16 April, setiap Kamis pukul 22.00 WIB hanya di Channel FOX life.
……
….and managed to do so, until after three episodes, and part of the fourth, I gave up.
While in some ways it was watchable, and actually did quite a good job of capturing the neurotic nastiness of the infamous far-leftist Betty Friedan, the anti-Schlafly bias became unpleasant to behold.
Coincidentally, I read in the linked story below that the last episode I watched was the one where…
In the show, Schlafly seems ill-prepared to answer the question and takes some prodding before reciting some of her positions.
But in the actual debate, Schlafly rattles off her criticisms of the ERA…..