BBC Exalts The 'Pure Joy' Of BLM Vandalism!
Today at 9.30am (Jakarta time ) we were treated by BBC World News  to a self-styled 'musician and activist' ( some bint we've never heard of!) saying that 'what would previously have been seen as an act of vandalism was an act of pure joy…. '
.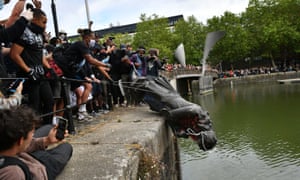 …
I had better things to do than watch again the shameful footage of BLM scum dragging down that statue.
…
Besides, if I had waited for some honest British working man or woman to be given equal prominence or equal time to contradict that leftist vixen…
.
.
…my best guess is that I'd have been stuck on my sofa till Judgement Day.
I have no intention of watching out for what the Tax-Funded Propaganda Channel was promoting as an update/retrospect on the subverted city of Bristol.
I already know too well that the only likely 'balance' will appear in the form of some mealy-mouth slobbering on about how it would have been more prudent to get Bristol's civic heritage dismantled 'legally'  – or at least quietly!
.
THAT is not balance!
I am certain there are still patriots in Bristol who would eagerly come on tv and challenge the evil BLM agenda.
.

.
But I'm equally certain they will never get an invitation.
.