Appropriately, The Maitlis Stars In Rich Elite's Magazine!
After all, the Coven comprises vixens aplenty, at least one more blatantly obnoxious than she is…
…uglier by far than The Maitlis!
ooooooo
So…
.
Sneer-Minx Maitlis – No Charm School Grad, She!
Why bash The Maitlis so much?
Because…
…the biased BBC's most notorious Queen of Condescension…
…she whose arrogance is such that she feels free to use a channel paid for by the British people to foist her left-elite Weltanschaung on all us lesser mortals…
.
..
…no matter her brazen bigotry violates the institution's charter of impartiality, deserves to be bashed.
Now she's appearing on a magazine unread by normal people…
….whose readership and target audience is largely composed of stuck-ups and wannabes, daft old snooty bats, plus hooray-henry/sloane-ranger dingalings, as they were known in the Eighties.
If you think I'm being harsh, look at this quote below a picture which resembles a promo for 'Bride of Dracula!'
…..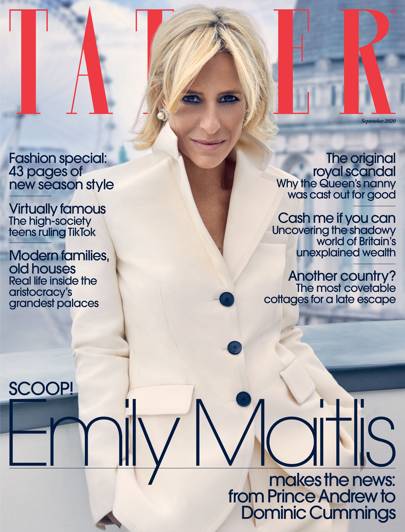 ……
The Grand Dame of Newsnight, Emily Maitlis, is the star of the September cover. Shot by Luc Braquet and styled by Sophie Pera on location at The Corinthia during lockdown, this is the journalist as you've never seen her before…
https://www.tatler.com/article/emily-maitlis-is-september-2020-cover
Have YOU ever heard of Luc Braquet? Or Sophie Pers?
No? Thought not!
Have YOU any idea what or where The Corinthia may be?
A pub in Hackney? Or a bar in The Bronx?
A local cinema in Finsbury Park?
Or is it in Greece, as its name suggests, maybe a disco in Corfu?
Don't hang about here waiting for answers!
I have never heard of those people, nor of The Corinthia…
.
..
…though if you find that it's a new bar here in Jakarta that does an Over-25s Happy Hour every evening, please let me know!
PS  – from their own website!
Tatler – The original social media
First published in 1709, Tatler is a powerful mix of glamour, fashion, society and features…
..
Tell these stuck-ups what you think of their pinko pin-up!
..
Vogue House Hanover Square W1S 1JU
+44 20 7499 9080