ABC's Media Watch, Blind To The Drum's Left Bias!
Media Watch?
Another gem of ABC impartiality, presented last night by an opinionated leftist named Paul Barry…
.
…provided more chattering about the infamous bints who got their picture in the papers.
One-sided chattering, inevitably, since Barry is given free rein (and no doubt a hefty income!) by ABC to witter all by himself, nobody there to contradict him.
.

Two bad bints!
…
And witter he did, much aggrieved on the bad bints' behalf.
But let us not say he is unable to commend a member of P.M. Scott Morrison's Liberal Party.
Barry was rehashing The Drum's discussion of the affair – you know, ABC's The Drum!
By pure chance I had watched that episode, which dissolved any worries I might have had that I'd unfairly accused the talk-show of left bias…
Their panel, on the day Barry was referring to, comprised the lesbian extremist, Kerryn Phelps, whose police-state mentality we exposed long ago.
…

In 2009, Phelps was named one of the 25 most influential lesbians in Australia by readers of the website samesame.com.au.
Here's another fact – the fanatic old bat changed her OWN 'sexual orientation' from normal to abnormal, but has declared it's "frankly outrageous" that Australian parents have the right to seek to cure kids who show signs of abnormal sexual urges.
"Even when parents think they are acting in a child's best interests, they can be very misguided.
Sometimes we do need laws in place to protect children from their parents best intentions," she said.
Obviously this old lesbian leftist knows best!.
'Marriage?' For Oz Gaystapoids, It's Kids That Count! 
So that was one Drum panellist.
And there was quite a cute blonde extremist whom the sly ABC producers chose to describe simply as a 'nurse.'
..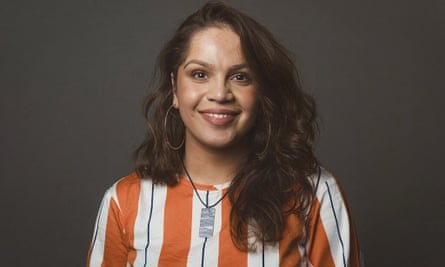 'A
Noisy Nurse Banok
.
But Banok Rind has been featured in the Guardian, with a tag saying how pleased the Guardian is to be 'in' with Indigenous X, and Ms.Rind is a helluva lot more than a simple 'nurse!'
ABC's own site describes her as a 'rising voice in Aboriginal health…'
Oh, and she has 'spoken out again about racism in the mainstream health sector…'
Oh for pity's sakes!
.
Have we not heard enough about all this bogus 'racism!'
Banok was soon mouthing the dreary BLM buzz-words, 'systemic racism,'  while another Aborigine on the panel, named Pat Turner, was soon rabbiting about detention (boring!).
But, to cloak the proceedings with a veneer of impartiality, there was a geezer named Ewen Jones, an ex Liberal MP, no less!
While the two Aboriginal women did not look very Aboriginal, they did sound alike, left as could be, and having checked out Turner, it seems when she was Banok's age she was into the same kind of extremism as Banok.
Has she changed greatly?
Whatever…
.

.
…and the Phelps female is as left as it gets.
So we were dependent on Jones to talk any sense that might be available.
Poor us!
About the first topic that came up was the publication of the photos of those rotten bints.
It's probably fair to say most Aussies were as outraged by the putrid pair's abominable behaviour as were the cops.
.
.
"They went to extraordinary lengths to be deceitful and deceptive and quite frankly, criminal in their behaviour and it has put the community at risk," Police Commissioner Katarina Carroll said.
A petition has been launched demanding jail-time!
..
Jail time for QLD covid positive teens
..
So should the photographs have been published?
Thousands surely think so.
The left won't agree, as is the left's wont.
So how many of The Drum's guests agreed and how many disagreed?

The three leftesses were predictable.
And the 'rightwinger?'
Jones simpered and mealy-mouthed pathetically.
"Suppose somebody back-handed them on the street, or spat on them!"
Oh, the poor dears!
No fun, but a helluva lot less deadly than the Chinese Virus!
.
.
These women should be pariahs for the rest of their lives.
They're not ten-year-olds. They are adults, who very carefully, cleverly, implemented a scheme which put at risk the lives of any number of innocent Australians.
.

Yet ABC put together a panel that had not even one voice raised for the sleazy sows to be named and shamed.
And Media Watch's Paul Barry offered not one word of criticism of that stacked deck, merely applauded that wet wowser 'Ex-Liberal MP.'
Time Barry was given an ultimatum.
.

.
If he can't shape up, then the obvious thing to do is…
…