Anti-Police Asses Outlaw 'Kindergarten Cop!'
A week or so ago, President Trump's rather cute media spokeswoman was subjected to abusive ridicule because she mistakenly said a kiddies' fun police series had been targetted by leftists.
Big deal.
…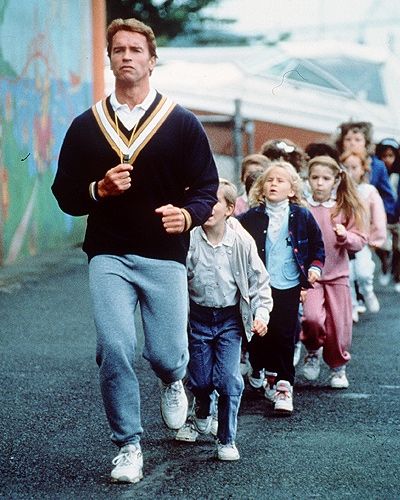 ..
But now that 'mis-spoke' side-show has been replaced by a shocking true-life censorship tale, Arnie Schwarzenegger's funny old movie, "Kindergarten Cop" pulled from a cinematic anniversary in, guess where…
.
…Portland, Oregon!
Yes, that Portland!
'..following complaints!'
Pity the NW Film Center, bullied into submission by far-left kill-joys…
…
         Lois Leveen
.
….mobilised by an intolerant sticky-beak fanatic named Lois Leveen, who objects to the comedy film 'romanticising over-policing in the US!!'
Read all about it here!
'Kindergarten Cop' scrapped from theater lineup following claim that it 'romanticizes over-policing'
I am told she's on Facebook.
Since she is devoid of any sense of humour, readers might wish to visit her page with witty comments.