Indonesia – Fiery Fury Over Freedom Banners – But Good For Gus!

..
Sad to read in suara.com that a bunch of sectarian uptights are up in arms about a banner celebrating Indonesia's Independence Day, which falls next Monday…
.
…
The Karanganyar Islamic Ummah Alliance (AUIK) protested the installation of a banner for the 75th Indonesian Independence Day in Karanganyar, Central Java. The banner, designed by the central government, is claimed to resemble the symbol of a cross.
https://www.suara.com/news/2020/08/09/194113/dituding-mirip-salib-spanduk-hut-ri-ke-75-diprotes-ormas-islam?
Oh, here we go again.
.
.
If you look for problems, in almost any context, you're pretty sure to find them.
These sectarian uptight outfits are inexplicably described here in Jakarta media as ormas, 'community organisations!'
I was downtown this week, and identical banners are all over the place.
They are approved by the government of President Jokowi, who is of course Muslim, as are 90% of Indonesians, and Jakartans.

..
Some of the banners are big, hung vertically, others are smaller, hung horizontally.
None of the many people going about their business in town seemed in any way bothered by the design.
…on the left side of the banner is the number 75 which indicates the age of Indonesian independence….on the right side of the banner, you can see a pattern of blocks that are claimed to resemble the symbol of a cross….
Yes, if you look hard enough and long enough and with enough determination to be offended!
Representatives from AUIK came to the Karanganyar Regional Secretariat office to voice the protest. They insisted that the banner be removed and the design changed.
Incredibly, according to the report, the banner has been taken down by the local government…
.
.
And what must President Jokowi think when he hears that!
Again, according to suara.com…
the logo is the official logo used for all banners celebrating the 75th Indonesian Independence Day…
.
…inspired by the shield symbol in the emblem of Garuda Indonesia.
Looks good to me.
But then, although I have many demerits, I am not cross-eyed!
I was all set to publish this when I spotted a welcome intervention from GP Ansor, one of Indonesia's rational Muslim organisations. Their chairman, Yaqut Cholil Qoumas, known as Gus, who is also a parliamentarian, has asked the obvious question.
.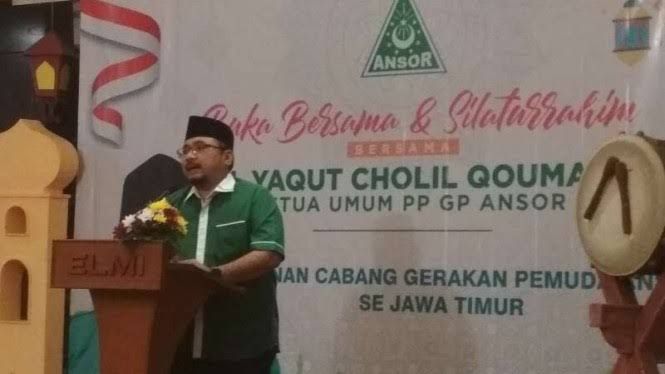 Yaqut Cholil Qoumas
.
 He recognises that, with the archipelago in the grip of a deadly virus, leaders both political and religious, must surely have more serious priorities, rather than whining about a design which is to be seen everywhere this week and about which only the usual suspects are gibbering.
GP Ansor is the youth section of Banser, the security wing of the largest Muslim organisation in Indonesia.
It has often been a source of informed and sensible comment, and action, here.