The Hag Spoke Directly From Sinn Fein's Black Heart!
While BLM terror in America continues to grip our attention, the hatred expressed by savages towards police there reminding many of us of Sinn Fein's denigration of the RUC…
.
Have a Care, Haass – Don't Equate IRA Scum With Patriot Police 
.
…it's surely appropriate for Brits to pay attention to the foul ranting of an unrepentant terrorist nearer home.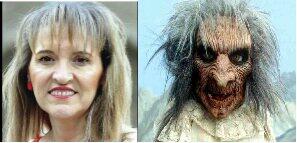 Found this via Google Search – which one's Evil Anderson?
Sinn Fein is of course infested with unrepentant terrorists, as we have noted from time to time.
But the vile hag Martina Anderson seems absolutely determined to remind the IRA murder-gang's victims that the the IRA's fan-club may have been admitted to the corridors of power but has not changed its tune, claiming the Troubles victims' pension would mainly benefit "those who fought Britain's dirty war in Ireland".
The 'Troubles' always seems an inadequate description of the IRA campaign of brutal, cowardly terrorism waged against men, women and children.
A 'Dirty War' is more apt. Not for anything done by the good guys, but for evil deeds…
.
….overseen by Sinn Fein devils like Blood-Beast Adams and Murder McGuinness!
.
====
After the Stormont Justice Minister quoted a likely cost of 

£800m, the hag Anderson responded with a sweet tweet.
"£800m 4 pensions mainly for those who fought Britain's dirty war in Ireland. £800m mainly 4 those involved in collusion. …£800m mainly 4 British troops like Paras who murdered people on Bloody Sunday and Ballymurphy. £800m mainly to discriminate and criminalise and exclude."
Obviously the representatives of loyal British people in Ulster were affronted, but even
 the republican-lite 
SDLP's Colum Eastwood felt a need to abhor the evil sow's outburst.
Eastwood's words – "unacceptable, disgusting and grossly insulting to hundreds of victims who sustained life-changing physical and psychological injuries" – are accurate enough.
The rabid bitch has since deleted the offensive tweet.
.
..
Big deal!
The message was loud and clear.
And at least one loyal Ulster leader understood.
.
.
TUV leader Jim Allister said that Ms Anderson could "always be relied on to lower the tone" but her "outbursts" likely reflected Sinn Fein's actual thinking better than the contributions of "some of its more subtle figures".
And sure enough, Jim's analysis was promptly confirmed – by Sinn Fein itself.
"It's our view that this scheme will be exclusionary, discriminatory and divisive. Its policy intent was and remains to create a hierarchy of victims and reinforce the British state narrative around the conflict.
Which is exactly what The Hag said!
Of course any dispensation of public funds must, or ought to be, exclusionary and discriminatory.
Not a penny of pension should reach any scum known to be associated in any way with Sinn Fein/IRA.
All they deserve is a painful death!
Not that I'm advocating unlawful activity. Just hoping they'll get cancer!