Can We Trust Pro-BLM BBC Not To Exploit Young Kyle's Case!
When I was sixteen, I declared my intention to go hitch-hiking on the Continent, all by myself.
And I did, despite both parental and teachers' dire predictions of kidnap or worse.

Alas, I didn't meet her!
.
In retrospect, the dire predictors were probably correct, and I was lucky not to get into bother.
Had my own off-spring been as wilful at 16 as I was, my response would have been much as those I many years ago defied.
More so, because in my teen years…
.
….Europe was not crawling with crimmigrant predators.
….
Best be careful till you're of legal age!
All the more so if there are guns involved!
My thanks to Breitbart, for publishing this statement from lawyers for Kyle Rittenhouse.
,
…
"Kyle did nothing wrong," attorney John Pierce of Pierce Bainbridge wrote. "He exercised his God-given, Constitutional, common law and statutory law right to self-defense."
Rittenhouse was charged Thursday with six criminal counts — including two counts of first-degree murder. One of the two charges carries a potential sentence of life imprisonment.
However, the charging document indicated that in both encounters in which Rittenhouse allegedly fired his rifle, he had been attacked first.
.
.
In the first case, a man had allegedly pursued him, thrown an object at him, and attempted to seize his weapon. In the second case, several people had allegedly chased him; one had allegedly struck him with a skateboard; and another had allegedly approached him with a firearm.
In his statement, Pierce claimed that Rittenhouse had been asked by a local auto dealer to protect the premises from rioters. He suggested that before the shooting incident, Rittenhouse had provided first aid to protesters who had been injured.
Later, Pierce wrote, Rittenhouse was "accosted by multiple rioters who recognized that he had been attempting to protect a business the mob wanted to destroy." That, he said, led to the violent confrontations that followed.
Pierce concluded:
A 17-year old child should not have to take up arms in America to protect life and property. That is the job of state and local governments.
However, those governments have failed, and law-abiding citizens have no choice but to protect their own communities as their forefathers did at Lexington and Concord in 1775. Kyle is not a racist or a white supremacist.
He is a brave, patriotic, compassionate law-abiding American who loves his country and his community. He did nothing wrong. He defended himself, which is a fundamental right of all Americans given by God and protected by law.
He is now in the crosshairs of institutional forces that are much more powerful than him. But he will stand up to them and fight not only for himself, but for all Americans and their beloved Constitution. We will never leave his side until he is victorious in that fight…
Meanwhile, the bias coven at Broadcasting House were not slow to start slanting their reporting on young Kyle Rittenhouse.
.
.
No slouches in the art of covering up any aspects of the news that don't fit their leftist agenda, and exploiting any facts' that might advance their Trumpophobic agenda…
….
….
…
they dug out the alleged shooter's 'connections' to Donald Trump!
The suspect's social media accounts suggest he is a supporter of President Donald Trump. Video shows him cheering in the front row of an Iowa rally for the president's re-election campaign. He also posted video from the event on his TikTok account. His Instagram profile bio read "Trump 2020".
But when it comes to the 'victims?'
Mr Rosenbaum, 36, was from Kenosha, and Mr Huber, 26, was from Silver Lake. The injured man has been named as Gaige Grosskreutz, 26, from West Allis.
They were on Kenosha's streets on a tense night that saw protesters clash with police and armed vigilantes.
So were these people just out for a chatty stroll to savour the evening air?
.
.
Or were they among the hundreds, or was it thousands, of violent far-left trouble-makers  ( BBC's "protesters") out burning, looting and looking to intimidate decent citizens in the evil BLM cause?
IMHO, the BBC knows a lot more than they are telling us.
IMHO, there's a strong likelihood at least one, if not more, of those 'victims' came onto the streets of Keshona with a far-left agenda, out for trouble.
If so, one often reaps what one sows!
We will follow this case, because the BBC and other BLM collabo media will not be impartial.
Here's another view!
Limited law enforcement in Kenosha has led to individuals and groups taking the law into their own hands during the unrest, a spokesman for the Wisconsin Professional Police Association told the BBC…
…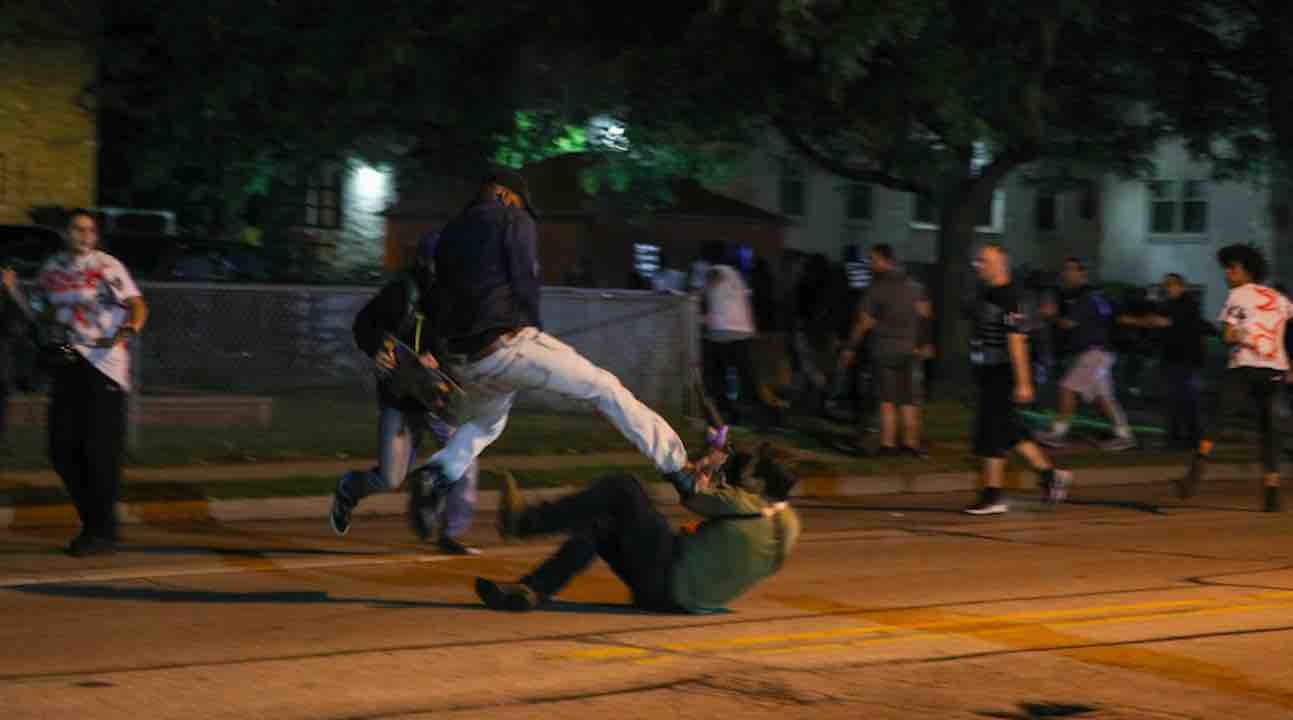 The criminal complaint against 17-year-old Kyle Rittenhouse alleging he fatally shot two people and wounded a third on the heels of rioting in Kenosha, Wisconsin ... Read more