No More Subversive Subtlety! BBC Exalts Marxists!
We have known for long enough that UK Pravda hold in contempt the people who pay their grotesquely inflated salaries.
Their greed has infuriated more people than their far-left bias.
.
.
That's human nature, but perhaps the BBC's latest outrageous, bare-faced promotion of marxism may change that, as more and more viewers realise their coerced licence payments are being misused to exalt enemies of democracy.
.
.
I only stumbled on it by chance, when I was confirming that the red hag Fonda was one of UKP's 2020 '100 Women,' whom we're supposed to find impressive.

However, as I scrolled down in search of Hanoi Jane, before I found that Un-American bitch, I spotted….
…guess who?
None other than Patrisse Cullors, a notorious self-confessed red, one of the three founders of the BLM racist movement.
And only the BBC could describe a BLM incitress as a 'human rights activist.'
A 'marxist human rights activist' is what's known as an oxymoron…..
An oxymoron is a self-contradicting word or group of words (as in Shakespeare's line from Romeo and Juliet, "Why, then, O brawling love! O loving hate!"  Merriam Webster Dictionary
…. an obvious contradiction in terms.
Marxism is demonic, responsible for more deaths than Hitler's Nazism.
Everywhere it's been installed as the state ideology, it has spawned a police state, a red gestapo and concentration camps.
Intrigued, I thought I'd keep scrolling down the list of women we must admire…
.
.
…and while some of them are not evil, unbelievably, there was yet another of the co-founders of the BLM gang, carefully pictured with a big smile, to hide the snarling mind-set that morivates every marxist.
Meet Opal Tometi!
.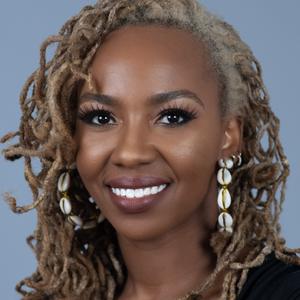 Comrade Tometi, another BLM 'trained marxist,' or in BBC-speak, '
Human Rights Activist!'
Use that link, for much more info on the evil of BLM!
…
We read all about them when they revealed that they were 'trained marxists' a few months ago, but the third member of the BLM troika? Her name has slipped my mind!
I will try to find it and scroll through the UK Pravda roll of honour again tomorrow, unless any readers does so first.
Britain has an allegedly 'conservative' government. When are they going to put a stop to the state broadcaster using tax-payers' money to advance the cause of the foulest foes of freedom?