Achtung, German Journos! Wer Ist Suzanhol?
Surely there are some competent investigative German journos in Indonesia?
On Monday, 28th December 28, the story we've been trying to unravel…
.
….got splashed all over all manner of Indonesian media….
…and in quite a sensational manner, the above example leading us to a dramatic headline…
Uncovered!
 The German embassy people who visited the FPI headquarters turned out to be spies
…with a statement by a leading Indonesian legislator, a Mr. M. Fahran…
.
…..who belongs to the National Democrat Party, which is NOT extremist, that – 
….based on the data he obtained, it was known that Suzanhol's name was recorded at the Bundesnachrichtendienst (BND), a German intelligence agency…She is not a government employee registered at the German Foreign Ministry. She is registered as an employee at the BND. BND is the German Intelligence Agency," Farhan said..
.
However, apart from one French source…
Commission de la Chambre des représentants J'appelle les étrangers visitant les employés du renseignement allemand du FPI Page all
…the Western media seem to be ignoring it!
.
.
Okay, maybe British and American hacks here don't feel like it's worth following up on the rather shocking revelations, about this woman, named variously as Suzanne Hall or Suzanhol…
.
.
But I have had a look in news search engines and there seems to be nothing in DW, or any other German tv channel or newspaper. 
From that now-notorious photo we showed you..
.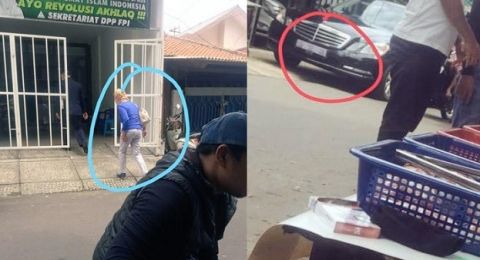 The German Embassy
….of a blonde figure entering the HQ of the fanatic sectarian outfit that likes to call itself the 'Islam Defenders Front,' or FPI, I'd have said it was a man, not a woman, but in the twilight zone of 'intel,' who knows?
Frankly, this case is getting fishier and fishier.
In fact it stinks.
And exactly who do the German media think they're helping by not covering the story?
Or was my own research not thorough enough – it's still the holidays for some of us!
So will one of my readers in Germany find at least a mention of Frau S.H.?
All info gratefully received!