Dirty Dorsey Apes UK Pravda To Conceal Vote-Fraud Facts!
I see that Jim Hoft, founder of Gateway Pundit, has been permanently banned from Twitter, leaving the liberal left "thrilled" and conservatives wondering who will be silenced next.
=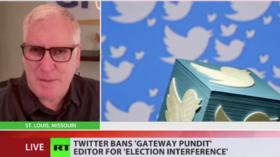 The ban was imposed exactly a week ago, and what broke the cabal's back was Holt's commitment to civic integrity –
—————
. …Hoft claims sources and several witnesses who have signed affidavits say this van was full of "61 boxes of ballots" and returned an hour later on election night with more "suspect ballots."
"We have the proof here," Hoft told RT about his video and election fraud claims. 
Officials have said no late-night ballots were counted that were processed after the 8pm deadline.
————————
– he posted a video showing clearly that ballot-rigging HAD taken place in the US Presidential election.
.

We know Dirty Jack Dorsey is more than open to communist influence.
But get this for sheer effrontery!
"The account was permanently suspended for repeated violations of our civic integrity policy!"
That's what "a Twitter spokesperson confirmed in a brief statement."
=

=
Dorsey, like the BBC…
…has made open war on civic integrity, not just denying but hiding electoral malpractice, like that exposed by Hoft.

And now China Doll Dorsey's geekstapo has the brass neck to cloak their hatred of dissent in the threadbare lie that they care about what they have done so much to damage?