Chicago Man Puts Maitlis In Her Place!
Did you by chance watch UK Pravda's Newsnight, which was shown on Saturday here in Jakarta, at my lunchtime, and then again at 5.30pm?
That fanatic Trumpophobe Maitlis was strutting her biased stuff yet again, doyenne of the BBC's coven of malevolents….
.
…her vicious animosity against Donald Trump yet again on prominent display.
'Your party has to decide if it's going along with those lies.'
That's the fair and balanced way she framed the objections to election fraud by President Trump.
But while one of her Republican guests, from Georgia, was putty in her hands, another, a Chicago guy named Steve Boulton, was having none of that!
=
Chicago Republican Chairman Steve Boulton
=
'That's your jaded viewpoint!'
He called out the nasty leftist hag, for typical BBC selective editing.
'You cut out the part where President Trump called for peaceful protest!'
Maitlis made no attempt to hide her affection for the RINOs who ratted on the beleaguered Trump, and her prejudice against rightwingers. 
Liz Cheney 'rejected dangerous conspiracies,…Marjory Taylor Greene supported them.'
==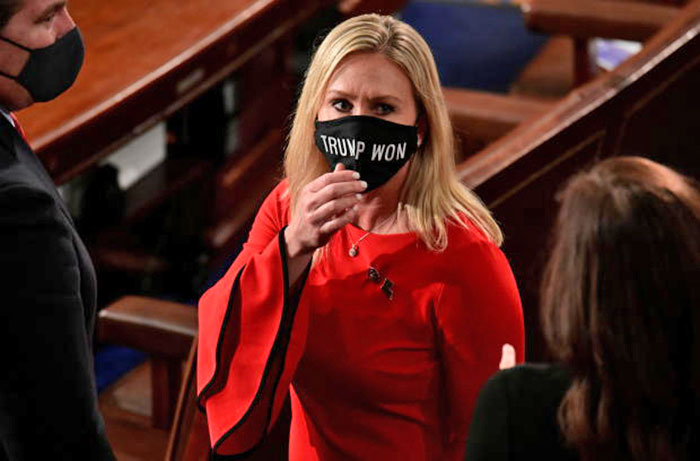 Bold and direct: U.S. Rep. Marjorie Taylor Greene wears a "Trump Won" face mask as she arrives on the floor of the House to take her oath of office on January 3, 2021.
https://www.massresistance.org/docs/gen4/21a/What-do-we-do-now/index.html
Actually, Liz Cheney rejected the President, while Marjory Taylor Greene supported Trump.
And when Trump is acquitted – again! – sometime in the next 24 hours, you can betcha the BBC bitches will still be peddling their partisan politics – funded by coercion of cash from the UK public purse.