Spain's Red, Red Rapper Deserves All He Gets!
Hordes of red louts rampaging on Spanish streets – because what even UK Pravda acknowledged is a 'communist rapper' has been arrested.
=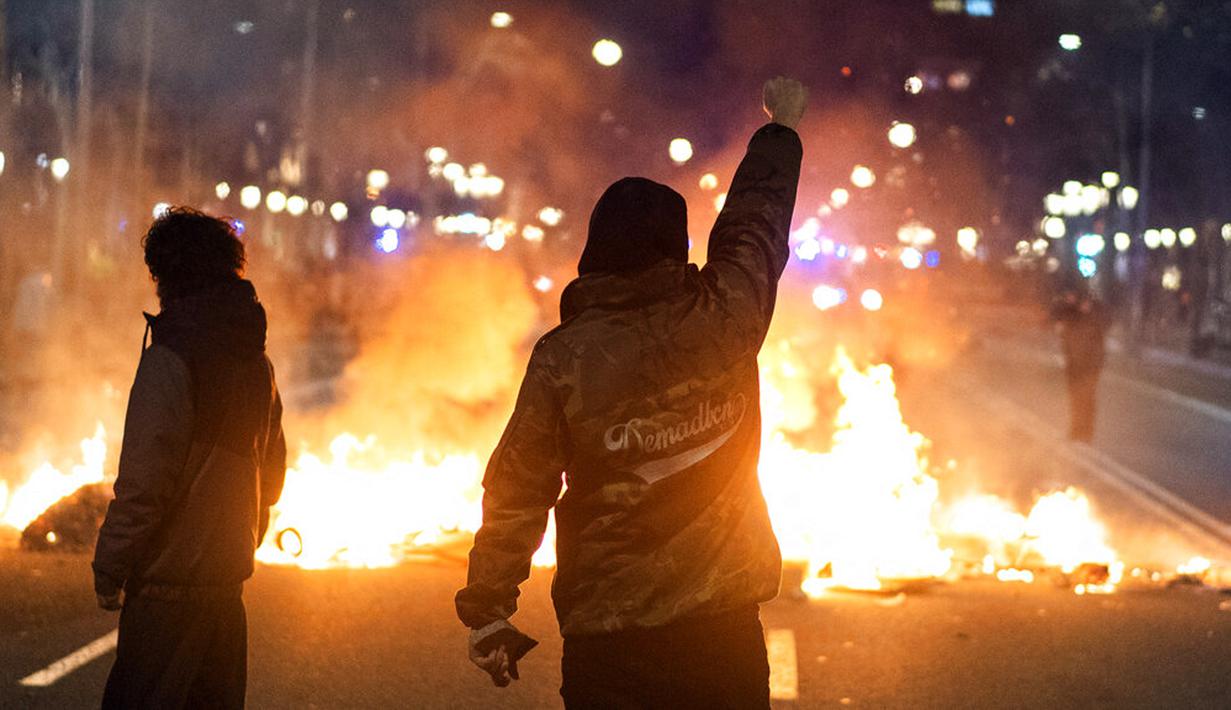 That bulletin at about 5-6pm Jakarta time Thursday on BBC World News expanded on the charges against the recidivist criminal – he's behind bars not just for defaming members of the Royal Family but also for supporting terrorism.
–
Pablo Hasel, a snotty little sh-t, whose support for terrorist murder-gangs deserves not jail but capital charges
–
Frankly, rap music is a crime, against normal people's ear-drums.
Like its repulsive cousin, hip-hop, it resembles the grunting of apes, not any kind of human harmony.
But no, I'm not saying the red brute deserves prison for his inability to sing mellifluously.
Nor am I especially aghast at anyone dissing royals.
If you look at how certain young Brit royals let down our revered monarch, well…
BUT – glorifying terrorism? 
That should be a crime in any country, and not least in Spain…
ETA's masked cowards,,,above…and below..something about their innocent victims
…where Sinn Fein's Iberian heroes ETA waged savage war on both security forces and civilians for years.
And where Islamist pigs have committed one atrocity after the other….
…thanks to an idiotic immigration policy.

.Then there's the cop-killer vermin called GRAPO!
But few of the mainstream media were much interested in detailing which vermin gangs this slug Hasel has supported. 
However a dip into wikipedia helped clarify how much he deserves jail – or worse. 
=
Juanico Llumà, Núria (16 February 2021). "Les 10 claus per entendre el cas Pablo Hasél" [The 10 keys to understanding the Pablo Hasél case]. Ara (in Catalan). Retrieved 16 February 2021. Hasél té una condemna anterior, del 2014, per enaltir en cançons seves el terrorisme d'ETA, els Grapo, Terra Lliure i Al-Qaida. [Hasél has a previous conviction, from 2014, for praising in his songs the terrorism of ETA, GRAPO, Terra Lliure or Al Qaeda]
——————-
And THAT over-fed uppity pig gets Amnesty International vocally supporting him?
Well, of course!
And, equally predictably, the 'celebrity' dregs are bleating too, as happens in most countries nowadays, 'show-biz' encompassing the most worthless, unpatriotic and unproductive elements in society!
Spain's leftist government plans to change the law, but I can't see why – the BBC website cites as an example of objections to the law the 2018 case of another rat – the rapper Valtònyc had his jail term confirmed by Spain's Supreme Court, for glorifying terrorism and insulting the monarchy with his promises of bullets for right-wing politicians and a noose for the king.
'Bullets?'
Incitement to murder, whether set to music, or rap, or by any means, is clearly 'hate-speech' of the real variety, not democratic dissent. That Valtonyc was rightly convicted three years ago!
And this year, Hasel, the scuzzy atonal ass, whose scumbag fans are rioting in Spain still, expressed support for terrorism, so it's not the law that needs to be changed…
…but the potential penalty.