Lincoln Project Lice Emerge From Under Their Rock!
I doubt Honest Abe Lincoln would be impressed by the leftist slime-balls who have appropriated his name.
.
.
The dirty tricks of the so-called 'Lincoln Project' hit a new low this past week…
.
.
..with a sleazy stunt in Virginia, where the mainstream media took delight in photographing alleged 'white supremacists…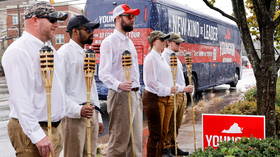 ….' standing guard' for the Republican candidate in the forthcoming gubernatorial election.
.

EXCEPT…
When the 'supremacists' were quite quickly exposed as fakes, the Lice Project 'admitted the stunt was their doing…'
A number of the fakers have now been identified as known Democrat activists….
.
.
…but the far-left Democrat candidate, Comrade McAuliffe, appears unwilling to seek their expulsion from his party!
Fingers crossed Republican Youngkin  wins!