Waterloo Sunset- More Canadian Jackbootery
..
After the storm over Turdo's assault on every Canadian citizen's freedoms…
….we focus on the plight of one young woman in one municipality in Ontario!
Carolyn Burjoski has been victimised by the leftists of Waterloo Region District School Board…
…'placed on leave after being accused of using "transphobic" language for voicing concern 'about the presence of books that celebrate medical gender transition in school libraries.'
After all the fake media indignation about 'banning' – which simply means keeping unsuitable material out of children's reach, which is what normal parents do at home and naturally expect schools to do too – one can imagine how these pinko creeps on the WRDSB must have reacted!
Sadly, Ms. Burjoski should have expected prompt retribution 'for arguing that some books in libraries were inappropriate for children.'
She says she's being 'bullied, slandered and abused' and I don't doubt it.
There are few more vindictive creatures than thwarted fanatics!
What's required is immediate suspension of Board Chair Scott Piatkowski, an excessively intolerant oaf, who 'cut short Burjoski's presentation after she said the school libraries have books that make the medical transition seem "simple" and "cool."
https://www.christianpost.com/news/school-board-punishes-teacher-who-spoke-out-against-trans-books.html?
And these were accessible to kids even of kindergarten age!
=
=
What kind of moral compass does Piatkowski possess?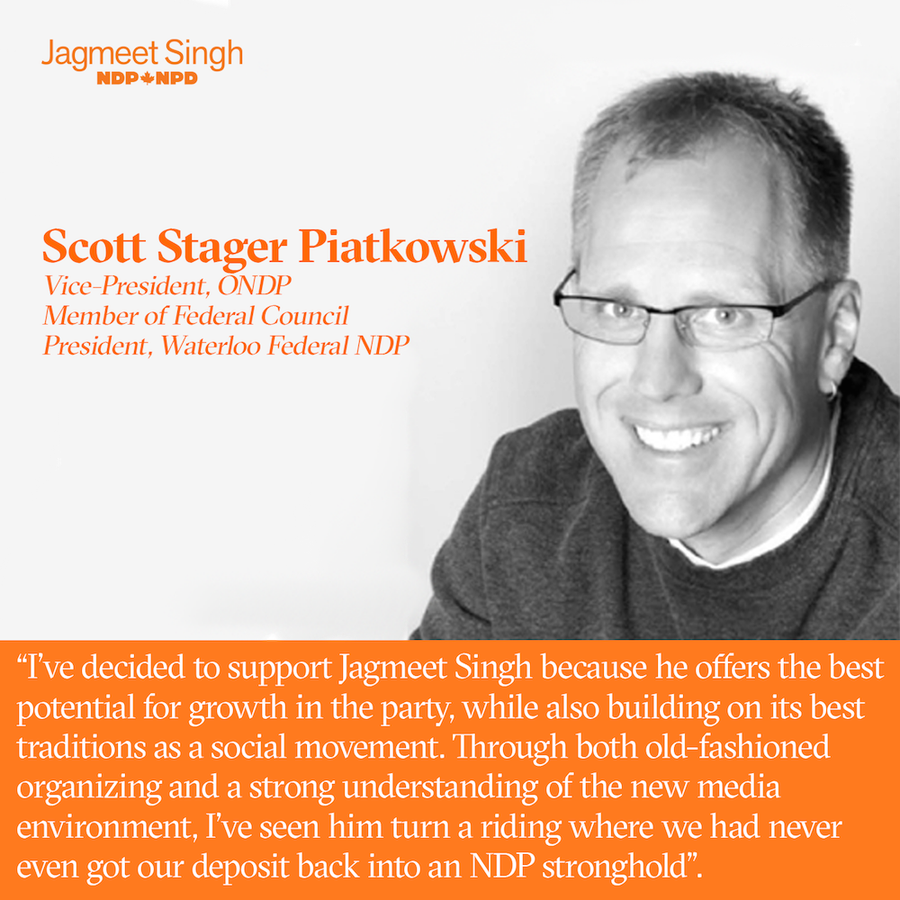 One begins to wonder when we come across this!
He's a fan of Khalistan Klutz, NDP boss Jagmeet Singh..
…
…whose own intolerance of dissent from the in-crowd we heard just a few months ago.
Does Comrade Chairperson Piatkowski hate free expression, open debate, as much as his hero?
ASK HIM!
Hope does spring eternal, though, because the media reveal that Comrade Chairperson only just managed to get the narrowest majority (5-4) to endorse his jackbootery.
=
…
Now his victim has not only been sent home but gagged.
.
.
Until a formal inquisition has been held, the teacher with morals has been BANNED from any contact with students AND colleagues.
PS
See more on this by reading what the National Post reported.
PS
It would seem a good idea to get Piatkowski booted off the school board, but in view of the voting last time, a powerful campaign is needed first…
…to make known what kind of chairman he is.
Over to Waterloo!.
PPS  I only just got the TNC report, which tells us a lot more esp what a Little Hitler mentality this guy has towards free speech and open government. .  https://tnc.news/2022/01/21/levy-waterloo-school-board-trying-to-obliterate-debate-over-sexualized-childrens-books/
.