It's a public holiday, declared by President Jokowi to give everyone in Indonesia a chance to get to the polls today, 15th February, local elections nationwide.
Here in Jakarta, my home for many years…
.
… the last thing they'll care about is what we foreigners, resident or abroad, have to say about the choice they're making.
That's why I have waited till polling stations have been open for several hours (well, that and because it's a holiday and it's nice to sleep in then sunbathe out front!) before wrapping this up and posting it.
It'll be 2pm, I think, when they shut. 
I will have no impact on anyone's vote, but then neither will the distant thunder of mainstream media pundits in Australia or anywhere else.  http://www.theaustralian.com.au/news/inquirer/governor-ahok-fault-lines-across-jakarta/
Indonesians can think for themselves and there are few major issues about voter fraud.
Unlike in the USA –
…some states are so notoriously slipshod in their controls (California, Virginia and New York…come to mind) that it would be shocking if many illegals didn't vote.
 Trump Is Right — Millions Of Illegals Probably Did Vote In 2016
 —————————————
If Ahok wins, despite his occasional foolish  moves, and by that I largely mean the destruction of Kali Jodoh…

---

---

…which upset far more than just the poor people who lived there, it will show the world that a majority of citizens in the capital of Indonesia are not susceptible to sectarianism.
Please note, 90% of the capital's voters are Muslim, so even if Ahok only gets through to a run-off, it will show there are MILLIONS of Muslims…
---
 …here in this ever-interesting city, who have no time whatsoever for the venomous jihadist demos we have, to our disgust, heard and seen for months now.
---
—
True, where Jakarta goes, there's no guarantee the rest of the archipelago will follow.
===============
But if he loses, for whatever reason, or even worse, gets knocked out in today's first round, that will be perceived as a triumph for the ugliest IslamoNazi elements in the land, the savages whom we have mentioned before…
---
…The protesters, most of whom were men dressed in white Muslim attire, were heard yelling, "We want a Muslim governor," "Burn Ahok!"  Breaking News – Jakarta Cops Tear-Gas Islamist Louts! 
………….
…whose view – I guess they'd not deny it –  is ANYONE but Ahok.
=================
It need not have had to be like this.
If his two opponents had spoken up, denounced the jihadist vendetta against Ahok, criticised him for whatever they think he's done wrong…
….
  "Outrageous" Activity in Jakarta Pools? OMG – BIKINIS! …( I've disagreed with Ahok more than once!)
……………….
… but told the world that under NO circumstances should ANYONE ever be prosecuted for the 'crime' of blasphemy, then whoever emerges victorious tonight, Jakarta's reputation would not suffer.
But instead, we had both his rivals attend last weekend's 'prayer session' which we had to mention last night.
They could respectably have gone to pray elsewhere.
Unsurprisingly, I suppose, Agus Yudhoyono has STILL not disowned his father's infamous call for universal religious censorship.
Agus, of all people, as a representative of the younger generation, should have stood up for a modern-minded appreciation of free expression, written, drawn or spoken, on matters of creed.  
………………..
——————
[[[[[[[[[[[[[[[[[[[[[[[[[[[[[[[[[[[[[[[[[[[[[[[[[
And we had Anies Baswedan, embarrassing himself and alarming those who had once perceived him, a former government minister, as seriously committed to pluralist values.
Anies toddled along cheerfully to a gathering of the hate-gang FPI and look at the big smile he got…
===========================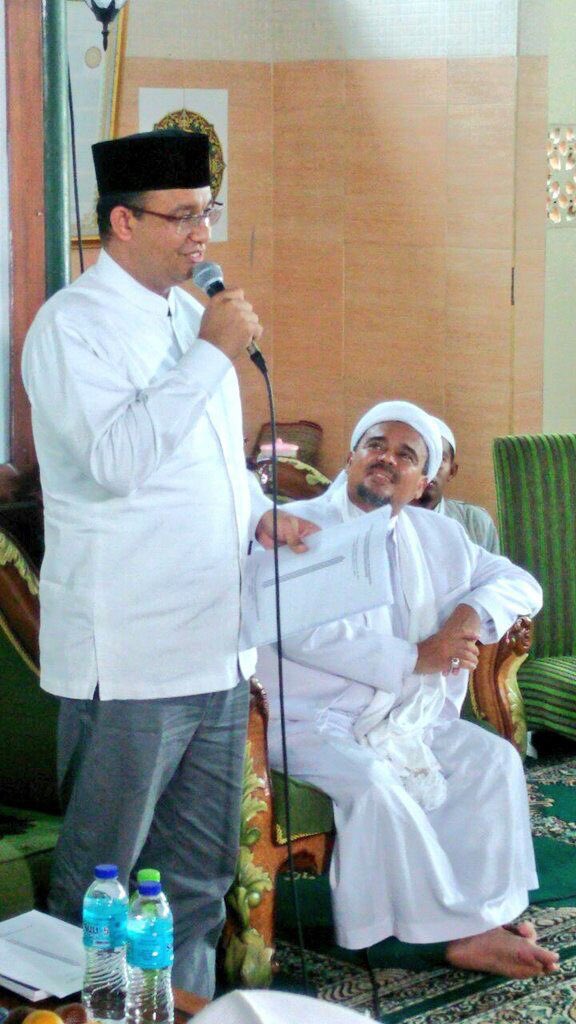 —————–
 …from the ferocious fanatic Rizieq, who thinks Ahok should be slain for mere words.
========
Ever since this 'blasphemy' carry-on began, with Ahok's good-natured observations at that Thousand Islands public meeting…
… we have seen the ugliest face of Islamist intolerance leering and looming ever larger in the public sphere.
Whether Indonesia can pull through this time of aberration, I honestly don't know.
I hope so, but deep down, I fear not.