It must have been around 8am Wednesday, Jakarta time, and I was on my third kopi hitam…
..freshening up the brain-cells as somebody important was due to video-link with me.
Foolishly, I flicked the remote at the tv and who should I see but the BBC' Grand Dragon of Groteque Bias…
….yes, the one and only Mike Embley, whose outrageously partisan antics have been noted here too often.
His guest was a far-left woman named Fatima Goss Graves, of the 'National Women's Law Centre,' whose words were as nectar and ambrosia to those who hunger and thirst after Trumpophobia.
.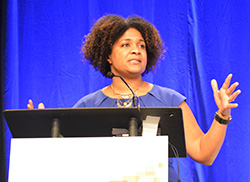 Fatima Goss Graves (National Women's Law Center)
.
I checked her out – she's another extremist obsessed with the non-existent 'systemic racism' cr-p.
'Healing potential?'
Young mother shot in head for saying '
All

 

Lives

Matter

'
'This killing was reported so quietly that barely anyone even noticed'
…
Far-left Fatima was doing exactly what the UK Pravda pinko creeps who had invited her must have been supremely confident she would do, ranting about President Trump's Supreme Court picks, past and present.
So far, he's done rather well.
Those of you who spent any amount of time watching Amy Coney Barrett's responses at the Senate hearings will appreciate that Fatima was not best pleased, because Fatima is far-left and she understood perfectly what ACB meant.
Incredibly, the leftess's snarky carping was apparently insufficient for Awful Embley…
.
.
….who blurted out his own opinions, which, as an employee of a state-funded broadcaster, required by its charter to be impartial, he MAY NOT DO.
.
.
The answers he had heard from ACB were not 'meaningful,' he hissed.
What a dork!
Far-left Fatima got ACB's meaning okay.
So did everyone, me too, and the hack-pack in the rotten media too. The journo jerks understood ACB's meaning and fumed loud and lng. 
Some questions were answered with several sentences. Other questions were answered with a simple 'NO!'
Like the insolent enquiry from that peculiar old bag Mazie Hirono we discussed last night.
When ACB said that hypothetical or plainly political queries were not hers to answer, her response was absolutely 'meaningful.'
And if Awful Embley doesn't like her style, it's NOT for him to say so.
That's why he has all his lefty guests on – but the pinko creep evidently can't control himself.