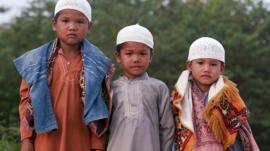 "I will protect Islam till I die…" 
====
I felt very sorry for these children, and all the people in their community who have been pushed into apostasy, abandoning their age-old faith, when I watched the BBC programme a couple of days ago.
=
=
I had been planning to write something, but now I have found the report on the BBC website, hardly a 'phobic' source, and can refer you to the link below the headline.
Indonesia's Orang Rimba: Forced to renounce their faith
The incidentals in the report are off-putting enough, especially this –
– The Islamic Defenders Front – a vigilante group whose leader is facing charges of inciting religious violence – helped facilitate the conversion.
But what is so tragic is this is happening only a week or so after I applauded Indonesia's Constitutional Court for ruling that the principle of religious liberty applies not only to the major faiths…
==
….but also to the traditional belief systems that have existed in the archipelago before foreign missionaries introduced the currently dominant creeds.
It would be nice to rail against this theological blitz-krieg, but I prefer to let you peruse what the BBC has uncovered…
=

=
…as I look out the front door onto my sunny Jakarta yard and wonder why, every time I run across some hopeful news, something comes along soon after to dash those hopes.