=========
PM Scott Morrison talked sense.
"What we want is more learning in schools and less activism in schools."
=========
Quite right, and he could have commented too on the very selective timing shown by these 'students' (which is to say 'school-children') since they had a whole weekend ahead of them, which their keen social consciences clearly preferred to preserve for dating, dancing, beach-partying, etc.
Instead of demonstrating in their own time, they quite deliberately chose to turn truant.
How infantile, and how sad that no disciplinary action seems to be contemplated by spineless school administrations.
Which is similar to a mouthy little cow named Greta Thunberg, on whom the Oz-Brats are said to have modelled their misbehaviour…
=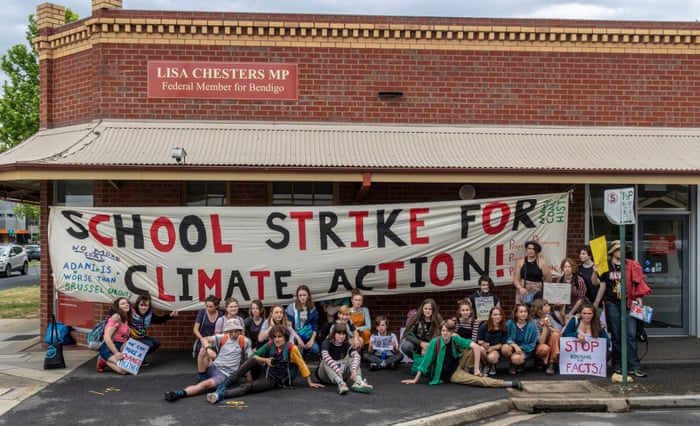 ……..
How can one go on strike if one has no job? Schoolchildren ipso facto are studying, not working. They have no employers, so cannot logically go on 'strike.'
So like the dafties in our headline, Ghastly Greta badly needs education.
=
=
Actually, she needed a few serious spankings several years ago, but her parents ( or guardians – she is such an obnoxious little madam that one worries her parents were not around when she most required discipline) obviously neglected to nip the strop -problem in the bud.
Unless you read the Guardian, you probably won't know who this child-monster is, so here's a photo –
==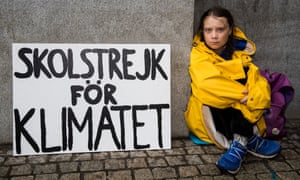 Since the obstreperous little bint is only 15 years old, it's hardly for her to say when she has to attend school.

Unless Sweden, yes, it almost had to be Sweden, yeah? – has laws out of line with the rest of Europe, primary and secondary education is compulsory.

If the adults responsible for her care and control are failing in their duty to ensure she enters the appropriate educational institution, rather than sit on her arrogant adolescent ass outside, then they ought to be hauled into court and prosecuted, as any neglectful ( or complicit?) adult deserves.

And incidentally, who were those plainly grown-up shrills we saw in the Australian news photos?

If they turn out to have been 'teachers,' abetting and inciting the indiscipline of those they're meant to teach, they need to be fired, pronto.
r.
Many students held placards criticising the government, and PM Morrison specifically. "I hate ScoMo [Scott Morrison] more than I hate school," one said.>
Horrible scenes from Melbourne, another filthy ISIS pig taking innocent lives, but good on the cops for shooting the savage, who of course, as a known Islamist…
.
…
…should long since have been deported back to Somalia, or at the very least interned indefinitely…
..
…
….but failure to take either course of action is not the fault of law enforcement but of politicians who allow specimens like Khalif Shire Ali to live in Australia.
And deportation from Oz should not only be decreed for satanic brutes like Ali.
Any 'cleric' or 'community leader' who refuses to repudiate disgraceful dogmas….
..

…
….like that which dictates death for 'apostates' and/or 'blasphemers,' or which demand that their followers put supranational sectarian allegiance before loyalty to Queen and Country…
…
Hizbut Tahrir
…
….should also be handed a one-way ticket to  whatever cess-pool they originally oozed out of.
It's an agreeable thought that Ali the Animal is already writhing in Hellfire.
It's only fair to note at this point that death by cop-fire is alas the only way that jihadists get the proper punishment, until capital punishment is restored.
Meanwhile, let's not ignore the bravery of ordinary citizens, the two Melbourne men captured on camera, one using a chair and another with a shopping trolley  ( yes, a shopping trolley!) doing their best to hamper the pig's attempts to murder police officers facing him.
…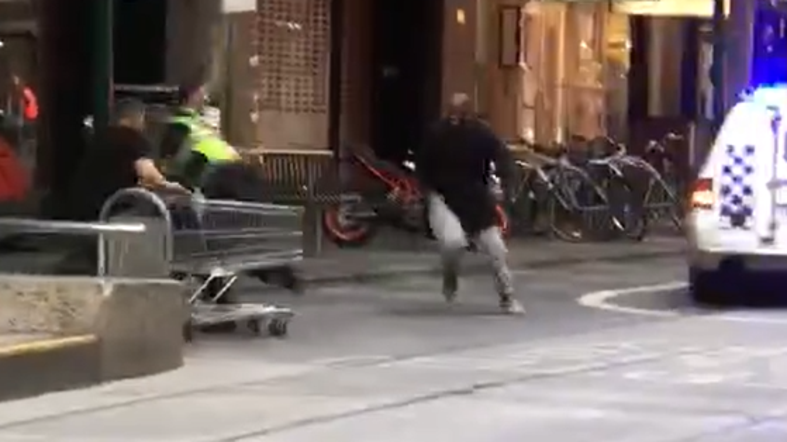 ….
That's real courage.
And more, an example to every decent Aussie, and every decent Brit, Yank, Canuck…
..
---
….not necessarily to take on dangerously armed vermin, but at least to take a stand against scum who strut through their streets brazenly inciting murder.
c

Compose new post

j

Next post/Next comment

k

Previous post/Previous comment

r

Reply

e

Edit

o

Show/Hide comments

t

Go to top

l

Go to login

h

Show/Hide help

shift + esc

Cancel