So yet another blogger has been murdered by cowardly sectarian swine. 
————-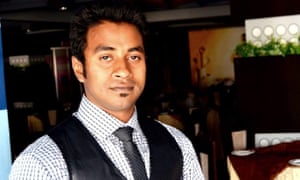 Nazimuddin Samad, 28
Secular Bangladeshi writer murdered in the street
CNN–
In this case, as before (Satanic Sectarian Savages Murder Blogger in Dhaka!  )  it's a Bengali- please note, Bangla Desh means Bengal Land, so Bengali is the proper adjective
This is what happens when ranting fanatics are not-
 A disowned by, and then
 B rounded up by the relevant government authorities.
Obviously, any individual or organisation which endorses death or other physical harm to 'apostates,' or 'blasphemers' or to those who 'insult' some religion or belief, should be arrested immediately and held in detention until they retract their evil drivel.
In saying this I am not having a go at the Bengalis in particular – we have seen savages in British and Australian streets demanding murder.
——–
Pig-ignorant primitives in Western cities -why were they not arrested -and deported?
—————-
It is a damning indictment of the irresponsibility of the authorities concerned that pignoramuses carrying banners like those in the photo above were not seized by police and charged with incitement to murder.
However, most of you reading this will agree with me, so I move on to the rat-bags of Amnesty International, who are up in arms over the slaughter of this poor blogger in Dhaka. They think it's dreadful, so they say, and we all do.
But, note carefully, Amnesty would be even noisier if the murderers got caught and  sentenced to the only penalty appropriate to their heinous crime.
—–
———–
Like the UK Foreign Office flunkeys here in Jakarta, scurrying to and fro and interfering in Indonesia's internal affairs at the behest of their Brussels masters UK's Jakarta Rep Frantic to Save Terrorist Skins -A Neo-Colonialist Par Excellence! they are opposed to even the vilest of terrorist scum being put down.
Damn them.