In case you don't already know, that's the German word for lying media, and if you challenge that Enemy Within, you pay a price.
"I've experienced a lot of German media manipulation and Russian disinformation. But that politicians and media make up 'hunts,' or at least spread this false information without checking it, was for me a new quality of false reporting in Germany."
Here's the honourable man who said so!
—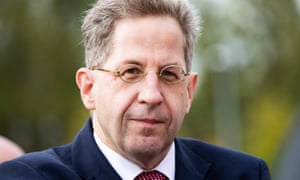 Hans-Georg Maaßen ran the Bundesamt für Verfassungsschutz (BfV) – Federal Office for the Protection of the Constitution – until September this year, then was purged on Merkel's orders.
———–
Maaßen repeated and expanded on his earlier claim that media had "made up" reports of far-right gangs "hunting" foreigners during unrest in the eastern German city of Chemnitz in August. "These 'hunts' never happened, according to the findings of the local police, state prosecutor, local press, the state premier and my colleagues…"
And the consequence of telling the truth?
—
====
Hans-Georg Maaßen 'will be retired from all offices with immediate effect,' according to the Interior minister, Horst Seehofer!
====
'Jawohl, Meine Fuhrerin, but we must move carefully, purge them one at a time, ja?'
Spineless Seehofer gets his orders
==
Horst Seehofer has thus proven himself a man of straw, a mere servile cypher, for Maaßen had been forced out of his top security job with a promise of a special consultant position within Seehofer's Ministry.
Seehofer has long sought to present himself as a true conservative patriot, but the German people, even in his own Bavaria, saw through the charade – Seehofer – Running Scared? Or A New Himmler?  –  and booted his collaborationist CSU party out of power at the recent state election.
Maaßen's crime was not just that he cares for his country but – infinitely worse- that he 'directly contradicted Merkel's spokesman, who had used the word Hetzjagd, or "hunt…" 
Although he has blamed"leftist radical elements in the SPD," and there's no doubt that Mama Stasi's Socialist coalition comrades are out to get anyone who speaks up for Germans…
=
…the ultimate decision was not taken by the SPD reds nor by the lap-dog Seehofer but by the Fuhrerin…
=
=