A repulsive ranting black lesbian ( that's not racist – I say a lot worse about horrid white sexually maladjusted women) named Gina Yashire…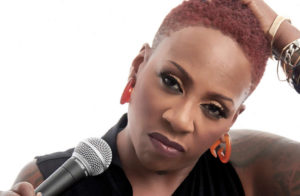 …
….was on BBC with Commissar Embley at 10.15am Thursday, Jakarta time, tantrum-jabbering about the latest cultural marxist censorship of good old TV series…
Both series – which star David Walliams and Matt Lucas – have come under fire recently because of the use of blackface in some sketches…
Come under fire?
And from whom?
Only from uptight leftists, like Yashere, and Embley, who not only did NOT invite anyone onto the propaganda show to disagree with Uppity's dictatorial demand that whatever her BLM crowd doesn't like…
.

.
…regardless of its immensely humorous quality, should be denied to normal people…
…but concluded his 'interview' with the ranter with these words.
'Amen To That!'
..
..
On whose behalf is Embley purporting to 'amen' her frantic, frothing, fanatic intolerance?
Fortunately, unlike the BBC, one local newspaper in the UK is offering YOU a chance to speak.
Use the poll, now, in case it too is banned!