Burkinis are now okay as far as Mama Stasi's Minister Franziska Giffey is concerned.
We know her SPD party is not noted for tolerance…
…but this Socialist extremist's readiness to tolerate an affront to the very principle of integration suggests she must be desperate to lose her party the next election.
=
The Burkini-Fan Ministrix
=
Or not.
She's been busily back-tracking after one really big row broke out, when 'she justified wearing'   https://www.rt.com/news/430974-germany-minister-burkini-school/ the bizarre outfit favoured by fanatics when girls attend school swimming lessons.
Muslims are not obliged to dress as if they live in the 15th century. Just come down to Bali, here, in Indonesia, and see all the Jakarta gals who delight in dressing like normal women on the beach.
=
=
When women migrate to Germany, they must shuck off benighted 'cultural' cr-p and when they wish to swim, should agreeably resemble the delights depicted in the AfD election poster.
=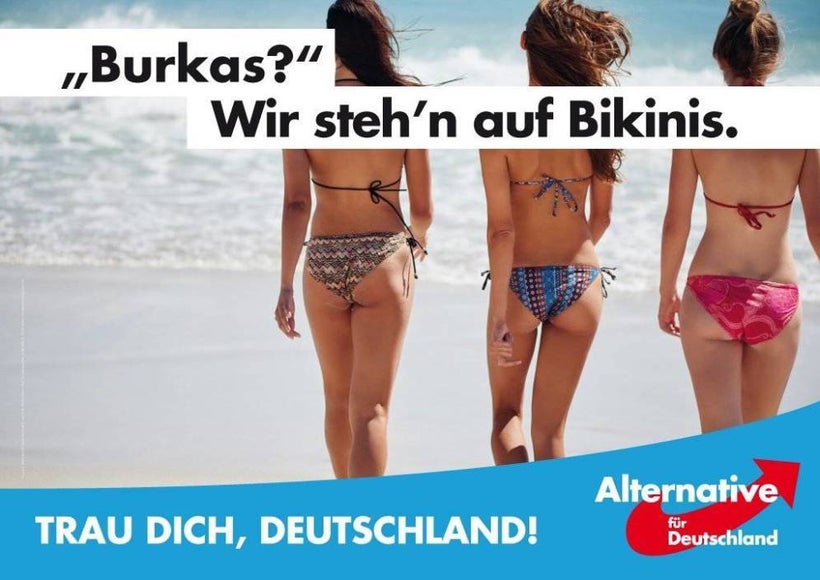 =
Of course there are primitives who would force all women into de-feminised, horrid gear, like this below, which we have shown you before…
'Fathers, Husbands…

…Their Private Parts Are Your Responsibility.'
…not just primitive but downright offensive, ordering the men in the family to dictate dress-codes.
But incredibly, there are voices raised in the Minister of Appeasement's support, like this –
"Giffey is actually right. Burkinis are justifiable. All children learn to swim and there is no reason to ban [girls] wearing burkinis from that," said one of creepy-crawl Giffey's fans on social media, who is either very stupid or just very determined to misrepresent the issue…
=
=
…because the girls are not being banned, simply told to act like normal German girls and change out of those ridiculous things and enjoy the swimming lessons with their class-mates.
If these poor kids' parents are the problem, then they should be told to sod off home to wherever they came from and where they may find schools with rules that suit their shallow prejudices.