We gave AFA's campaign to block this menace our support, as we have done with many of their brave endeavours…
..
========
…so now we welcome the great news that she has stepped down and Donald Trump now has the chance to appoint somebody not wedded to the gaystapo agenda to the position she held.
Credit where credit is due.
It was thanks to Senate Majority Leader Mitch McConnell's refusal to hold a vote on the admirable block imposed on the self-confessed 'gay' leftist's confirmation by pro-decency Senator Mike Lee of Utah.  Washington Blade reports.
….
Victory for the U.S. Constitution and religious liberty in America! Since 2010 Chai Feldblum, an anti-religious liberty activist, has served as commissioner at the U.S. Equal Employment Opportunity Commission (EEOC) – the federal agency dedicated to protecting the freedom of religious expression.
Feldblum's term as commissioner was set to expire on July 1, 2018, but President Trump had renominated her for another term. Beginning in December 2017, AFA vigorously opposed her service at the EEOC. Because of public opposition by AFA supporters and the opposition of a few U.S. senators, Feldblum has reached the end of her stint at the Commission.
She announced on January 3 via Twitter: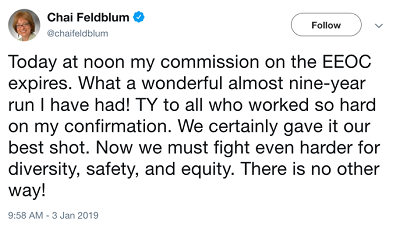 Feldblum's influence at the EEOC was a real threat to the religious liberty of Americans. Her fight for "diversity" and "equity" can be translated as the insistence to place the right to sexual deviancy ahead of religious liberty.
She has said, "I'm having a hard time coming up with any case in which religious liberty should win…Sexual liberty should win in most cases. There can be a conflict between religious liberty and sexual liberty, but in almost all cases the sexual liberty should win because that's the only way that the dignity of gay people can be affirmed in any realistic manner…."
President Obama was able to place Feldblum on the EEOC as a recess appointment, a strategic move that enabled Obama to circumvent Senate rules and Senate republican opposition. When the Senate voted in 2013 to renew Feldblum for another term at the EEOC, the only republicans who voted for her were Sen. Susan Collins (R-ME) and Sen. Lisa Murkowski (R-AK). Sens. Collins and Murkowski votes were not necessary since the Democratic nomination passed 54-41.
AFA is thankful its supporters took action to let the Administration and the Senate know how important fundamental religious liberty is to the constitutional republic of the United States. The position at the EEOC remains vacant, and President Trump should nominate a constitutional conservative that's in keeping with his campaign promises.