Anti-Brexit campaigner Raymond McCord has lost a Court of Appeal action against the British government over the border on the island of Ireland.
https://www.rte.ie/news/ulster/2020/0427/1135155-raymond-mccord/
That McCord is a disloyal scumbag with a criminal record, a convicted benefit bludger, so he deserved public contempt even before he decided to take up litigation as a hobby.
Remember his legal challenge to Bojo on the grounds that 'turmoil' might ensue if the PM were in breach of the Bad Friday Deal?
=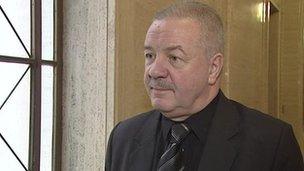 He's a vile parasite.
In 2014
McCord

was convicted of benefit fraud, pleading guilty to thirteen counts totalling £69,000 in mis-claimed

housing

benefit, incapacity benefit and industrial injury reduced earnings allowances.
He was given a sentence of 18 months imprisonment, suspended for three years.
The dirty sponging pig ( whom the Eire newspaper on whose report we base our discussion prefers to describe as a 'victims campaigner!') should have been locked up until every penny was repaid!
Now he's dragged his hang-ups through various levels up to the Court of Appeals. Anyone who knows about lawyers and courts knows that would not have been an inexpensive process.
'He claimed the Northern Secretary's failure to set out circumstances in which he would direct the holding of a poll on unifying both parts of the island breached constitutional issues.
He lost, of course, and with his track record in legal whinery, perhaps no surprise.
But the key question for honest British folk, both in Ulster and on he mainland, surely has to be…
Who pays for all this nonsense?
Will British tax-payers be the 'victims' in this sorry saga, forced to fund the louse's legal action?
If so, who will step up to be their 'victims campaigner?'
Or is there a hidden hand, an Enemy Within, that's been backing the bludger b-stard's court bleating?
Judging from this other report not so long ago…
TUV's Jim Allister and DUP MPs Gregory Campbell and Carla Lockhart have submitted Freedom of Information (FoI) requests about the level of assistance he has received.
Their involvement emerged as Mr McCord was granted permission to challenge a decision to release the funding details.
https://www.newsletter.co.uk/news/uk-news/unionist-trio-seek-details-raymond-mccord-legal-aid-1889632Shared

Honest Jim of TUV, I'd guess, will be the man to step up and get answers!