It just goes to show that even the far-left Guardian can (inadvertently) do something useful.
I mean, how many of us, of you, know that the once fervently patriotic Express has been absorbed into the longstandingly leftwing Mirror media stable?
Who among us knows that the current editor of a once hard-hitting Tabloid is more 'responsible' (Guardian-speak for left/liberal) than his predecessor?
I suppose I should  – but I honestly don't have the time, and certainly no resources, to dig out these surely important shifts in the balance of UK hackery.
============================
But the creep who wrote for The Guardian last week has plenty of resources.
Strangely, The Guardian has not put their usual little paragraph anywhere on its page to tell us who Roy Greenslade is.
If you chase it down, it only records that he was Mirror editor, for barely a year, 1990-91. And that he's a professor!
So I investigated, and learned that Greenslade is worse than almost all the other pinko creeps who are given a platform there.
He's indeed a professor!
But that's not what makes him despicable, though it makes one despise the City University, which employs him.
Greenslade is a big fan of the IRA murder-gang's political wing, Sinn Fein.
=

=
He's a gutless scumbag too, because when he wrote for the vermin party's rag, An Phoblacht, he didn't even have the guts to do so under his own name.
During the late 1980s, when he was managing news editor of The Sunday Times, he secretly wrote for An Phoblacht, a newspaper published by Sinn Fein. His pseudonym was George King. This was exposed….he did not deny his writings for An Phoblacht. 
Greenslade also spoke at a Sinn Féin conference in London on the 30th anniversary of the hunger strikes, and he wrote an article on the same subject for An Phoblacht.
This dirty swine is also a 'close personal friend' of Pat Doherty, who from 1988 until 2009 was vice president of Sinn Féin, and who has been publicly named as a former member of the IRA Army Council. 
Oh, and Greenslade also stood surety for IRA member John Downey, one of the suspects in the 1982 bombing of Hyde Park which killed 4 soldiers.

OTR Sinn Fein pig, Patrick Downey – see the previous story here-
John Downey is a piece of filth, whom we have discussed before.
So his bigot buddy Greenslade is not somebody any decent person would let in the front door.
However, his sicko Sinn Fein connections are not what he wrote about last week.
He was musing on the fact that in 2016, some 56% of Britons thought immigration was the most important issue facing Britain. Result: Brexit. Now, with papers no longer headlining immigration, it's only 20%..
The Sinn Fein fan's simplistic conclusion that Brexit was the 'result' of public concern about 'immigration' is just that -simplistic!
It ignores the fact that people like self-government.
.
.
It ignores the resentment felt daily by Brits who had to walk past signs saying this or that was funded by EUSSR money, when any educated Brit knew their money had been filched, recycled, and a little bit returned with the unpleasant blue/yellow tag attached.
Looks Like a Cross Between a Werewolf and an Ape – Is It Adams or McGuinness?
==============================================================
One speculates how much Greenslade appreciated that vile Crossmaglen monument to vermin which was – or was it? – an 'EU' funded project.
But skip all that for the moment!
Greenslade's figures on the media coverage are useful. So too is the media collage used by the Guardian to illustrate the Sinn Fein fan's scribbling…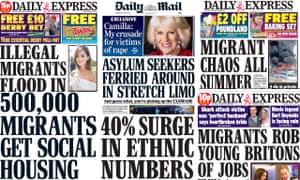 …which reaches a nadir with his blaming of postwar governments for not getting tiresomely country-loving Brits to appreciate 'why a multicultural society should be embraced' –
Like, uh, yeah, why?
=
ooooooo

Or these?
As illustrated by the multiplicity of grooming gangs in Rotherham and other British cities?
00000
By denying the electorate access to the negative impact of 'migrants' on society, these contemptible newspapers have lulled people's legitimate anxieties about the problems that plague Britain, or any country afflicted by the importation of largely unvetted aliens.
Greenslade acknowledges that popular resistance is still out there, among the un-indoctrinated… – though he calls it 'prejudice' ( a misuse of that word, because 'prejudice' means prejudging, adopting a position on a phenomenon you've not experienced –
.
.
….so Greenslade evidently doesn't grasp how many Brits are fully aware of how their liberties and ways of life have been marginalised by multi-cult?
Yet  the resistance, whines the rat-fan, is only there because of that failure, by government and collabo media…
.
.
…to brain-wash and brow-beat – 'explain to' – the people that they don't know what's good for them.